Today, we have mermaid tattoos on the board, that not only looks extravagant but also offer an array of different meanings for the person who wears them. So, this article is dedicated to all the mermaid tattoo lovers out there.
The History of Mermaids:
Mermaids are rooted back to the ancient culture when the pirates and travelers begin their sea voyage to conquer the world and for the trade purposes. The mermaids, at that time, were associated with the beauty and the sea goddesses.

According to some, these graceful creatures of the sea were sometimes responsible for causing sailors to drift off their course and wreck their ships due their sensual power and charm.
The Meaning and Symbolism of Mermaid Tattoos:
So through the history, we can consume a number of meanings from the mermaid tattoos and that includes:
Beauty
Ode to the Sea
Sensuality
Destruction
Dual Nature
Wild Spirit
Femininity
Mystery
Sea Goddess
Power
Magic
Danger
With these loads of associations, it is now clear that why the mermaid tattoos have been the ultimate global appeal.
The Alluring Mermaid Tattoo Gallery:
So here, we have gathered some amazing mermaid tattoos exclusively for your inspiration. Check them out and choose your next tattoo.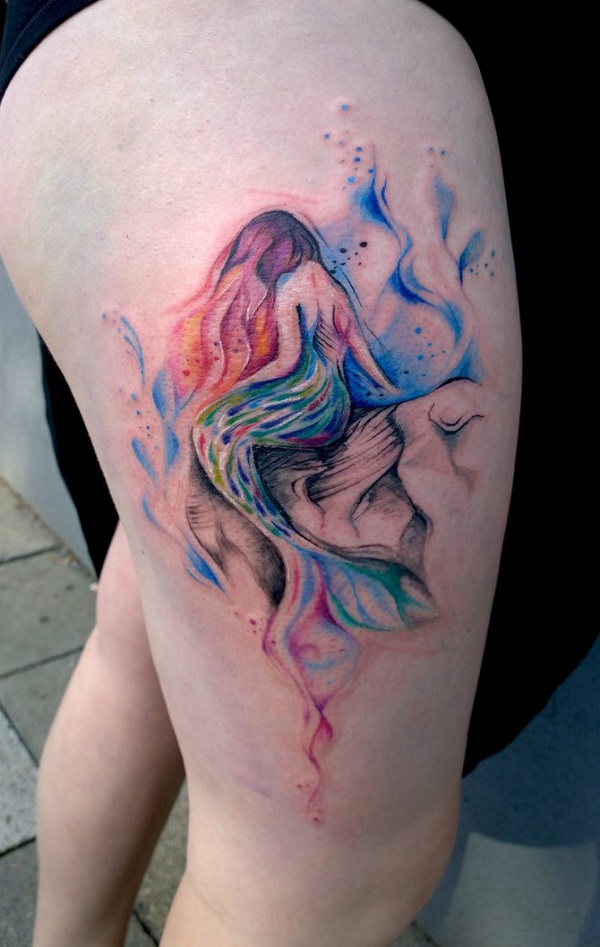 The Multi- Colored Mermaid Tattoo. So here, we got the beautiful multi- colored mermaid tattoo, that is beauty in its own.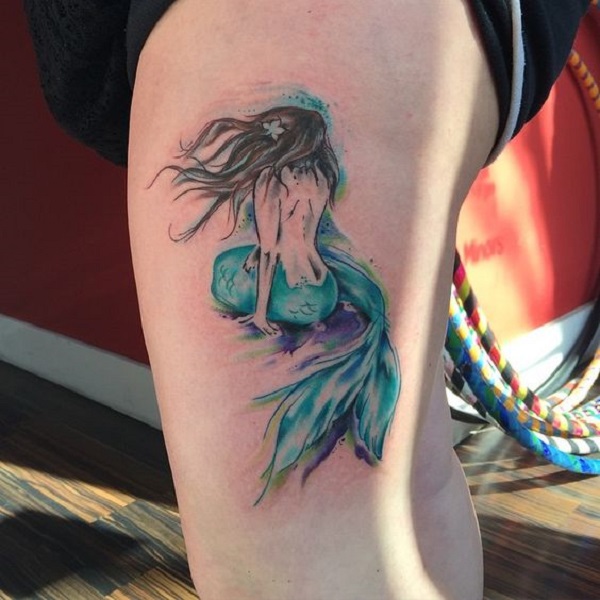 Sexy Mermaid Tattoo. Check the curves and the art of this tattoo. Well, a fine piece with the added sensuality.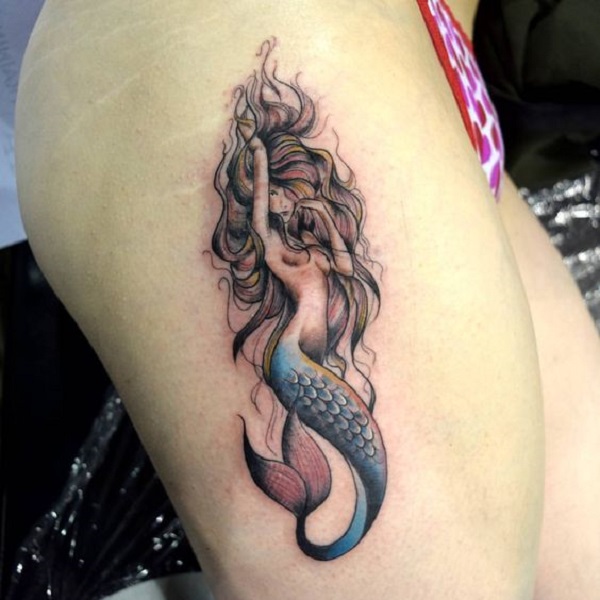 Seductive Mermaid Tattoo Idea. This seductive mermaid tattoo can make any guy fall for you.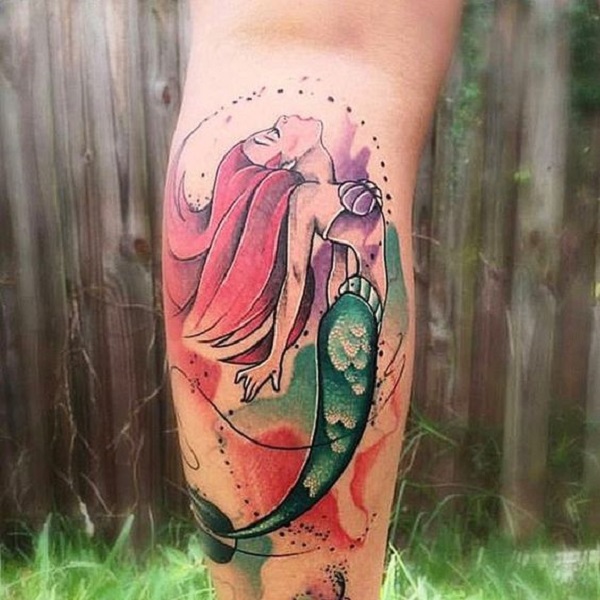 Disney's Aerial Tattoo. When it comes to mermaids, how you can forget this beauty from Disney?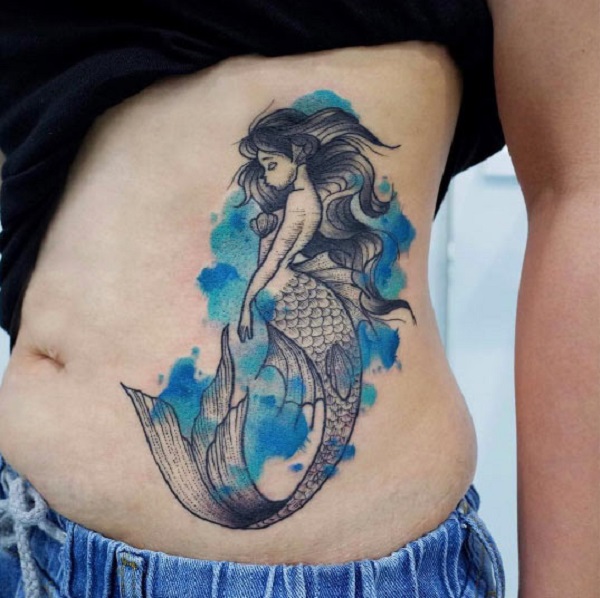 Floating Mermaid Tattoo Design. This sea queen is beauty in  its own.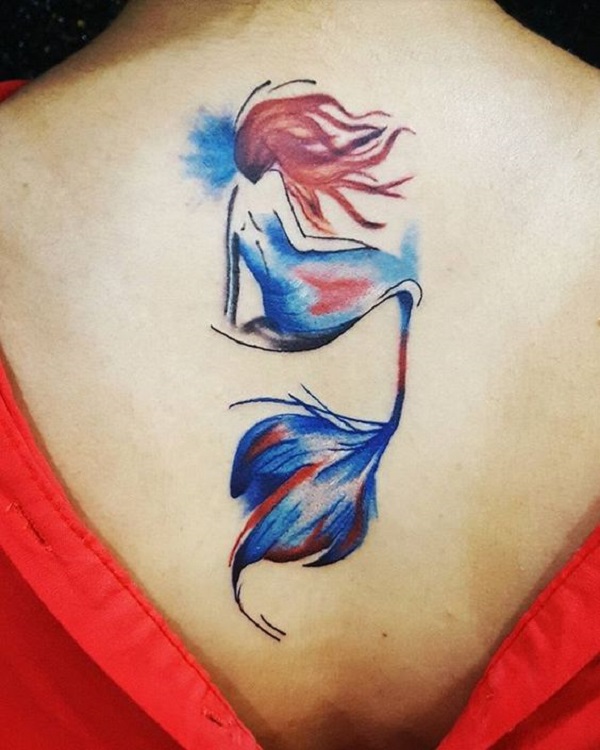 The Beautiful Back Piece. This simple little mermaid piece is the best thing that you can get on your back for sexier look.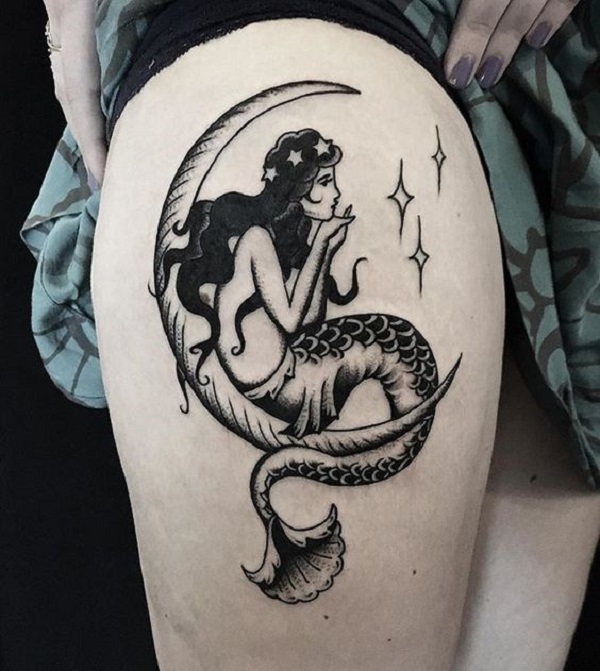 The Mermaid Over the Moon. Often, the mermaids are associated to have connection with the moon because of her reflective nature and self- admiration. The tattoo is the true depiction.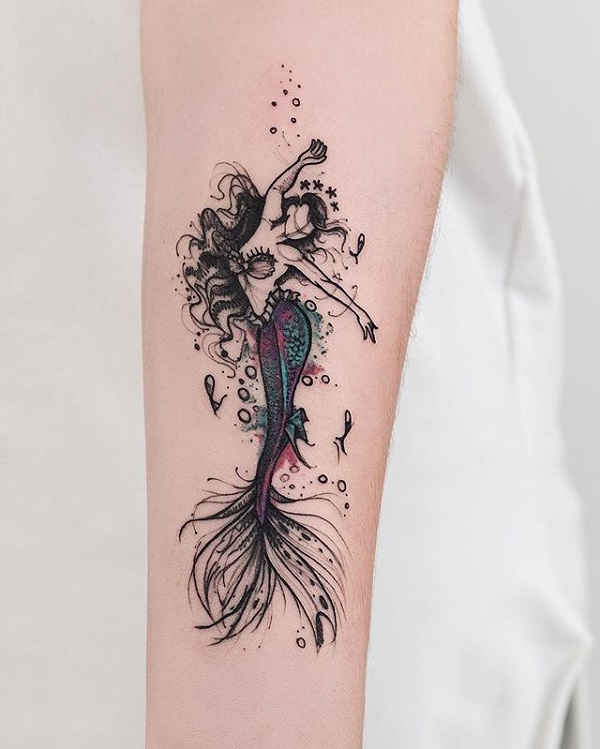 Dancing Mermaid Tattoo. Mermaids are often those jolly creatures that love to sing and dance. This dancing mermaid can make you dance too!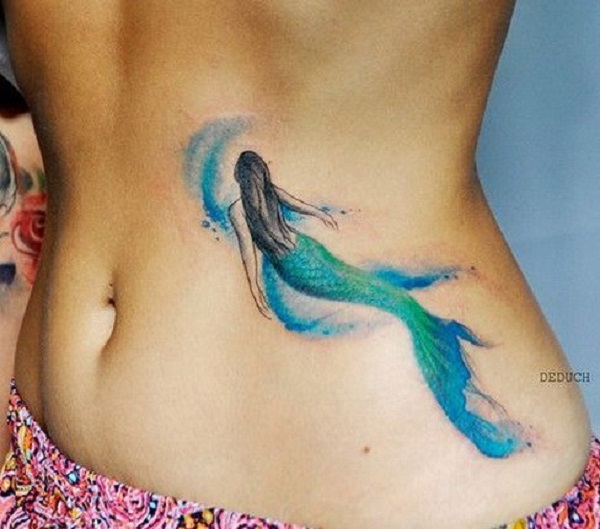 Another Floating Mermaid Tattoo. Swimming in water like they love, this is the beautiful mermaid tattoo done.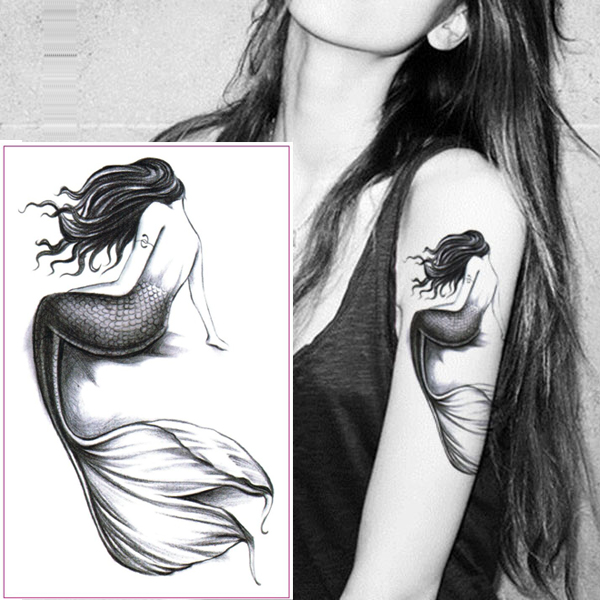 Grey-scaled Mermaid tattoo. Most of the times, colorless makes its beautiful. Here's the thing.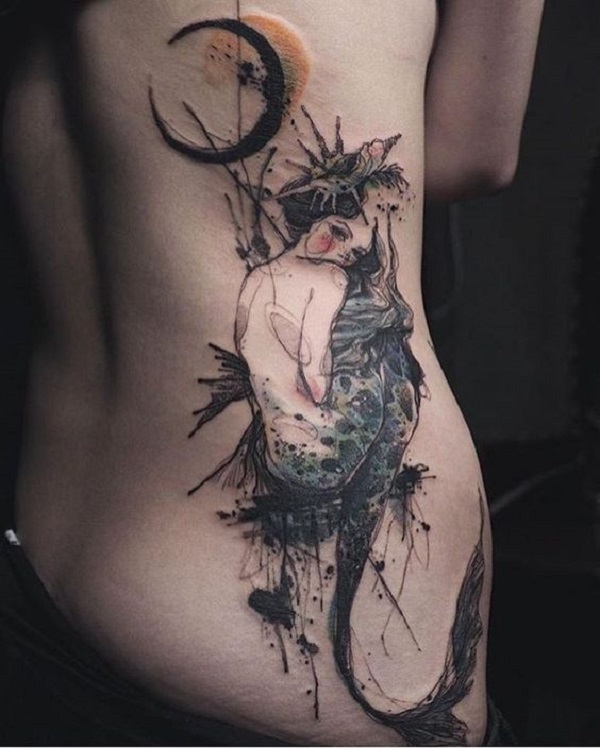 Lonely Mermaid Tattoo Design. Often mermaids are lonely and that is the reason they got fierce at times and can cause your drowning.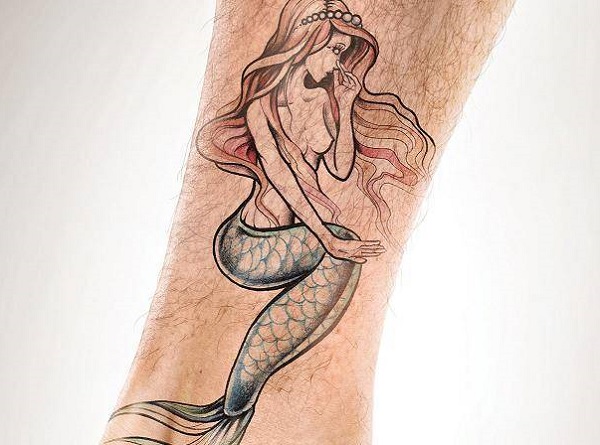 The Scaly One. The details in this tattoo and the color combinations makes this tattoo a real one!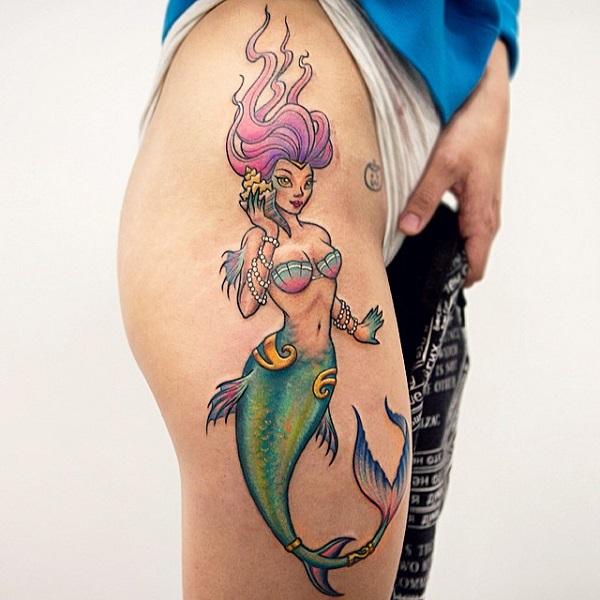 The Symbol of Beauty. You cannot get any placement better than thighs for this symbol of beauty. Her eyes, her figure, her curves are just perfect!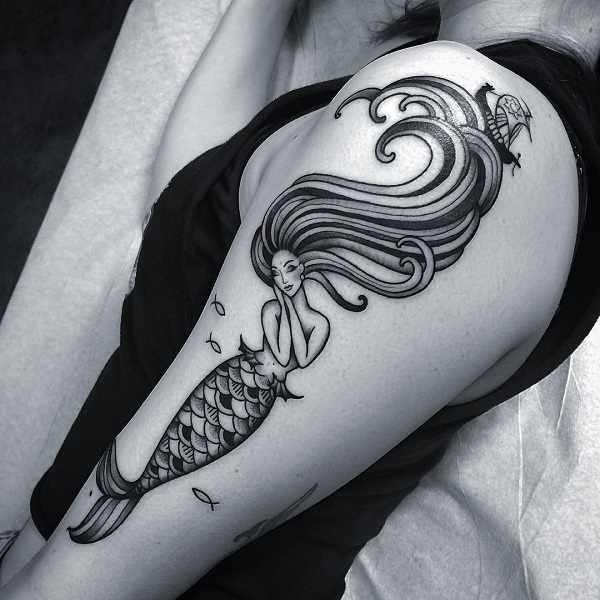 Mesmerizing Mermaid Tattoo Design. This tattoo depicts that the mermaid's hair are the sea waves on which the ship is sailing. What would happen if this mermaid got angry?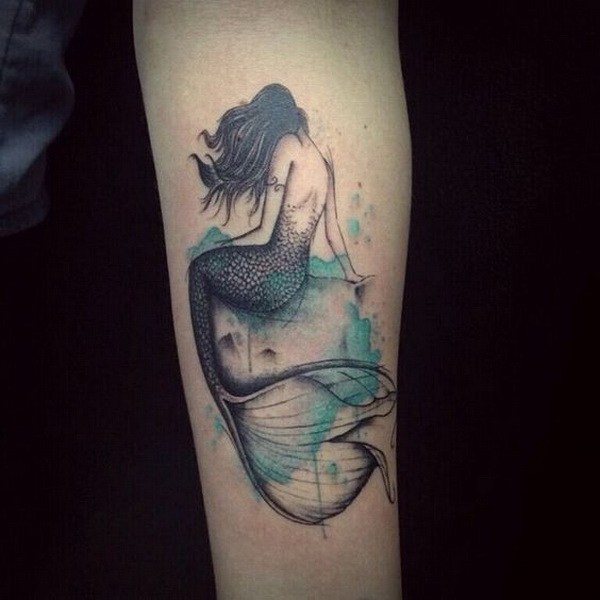 This Sexy Mermaid Tattoo Design. Her transparent tail, shiny scales and sexy body, yes this is the sexy mermaid for you!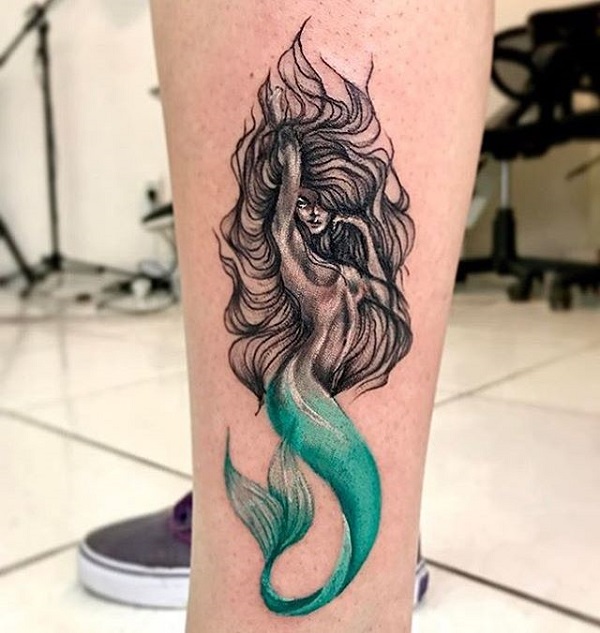 The Oh- So Hot Mermaid Tattoo. Symbolizing the sex symbol, this mermaid tattoo is for all those sexy girls out there!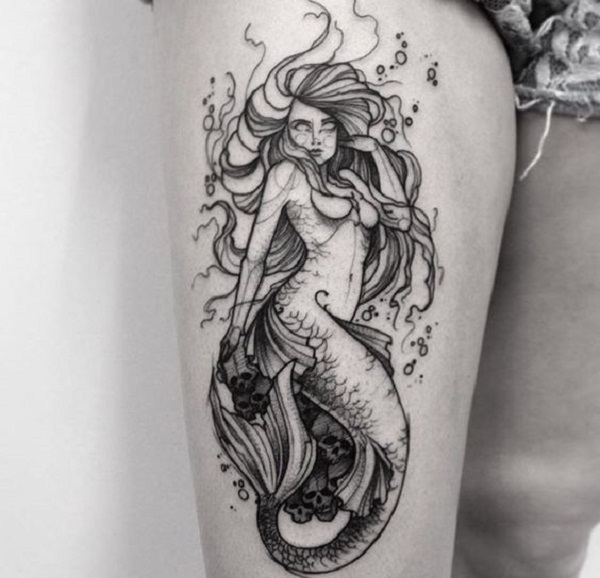 Fierce Mermaid Tattoo. You know when mermaids get fierce, what happens? Destruction!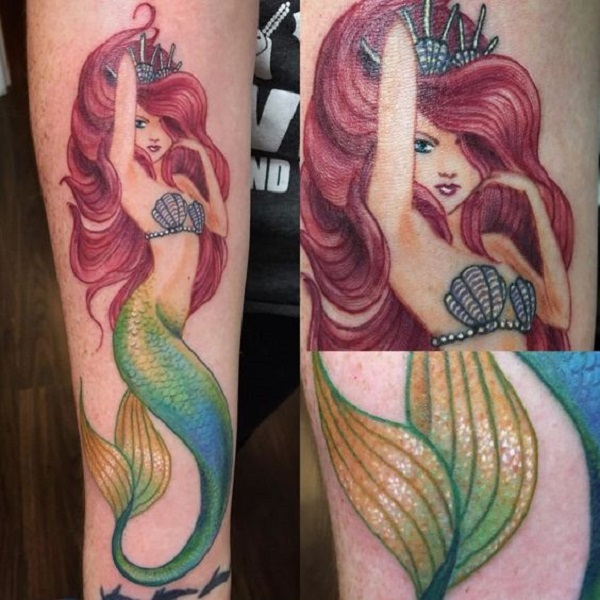 The Queen of the Sea. This queen of the sea has got all the powers to destroy her enemies.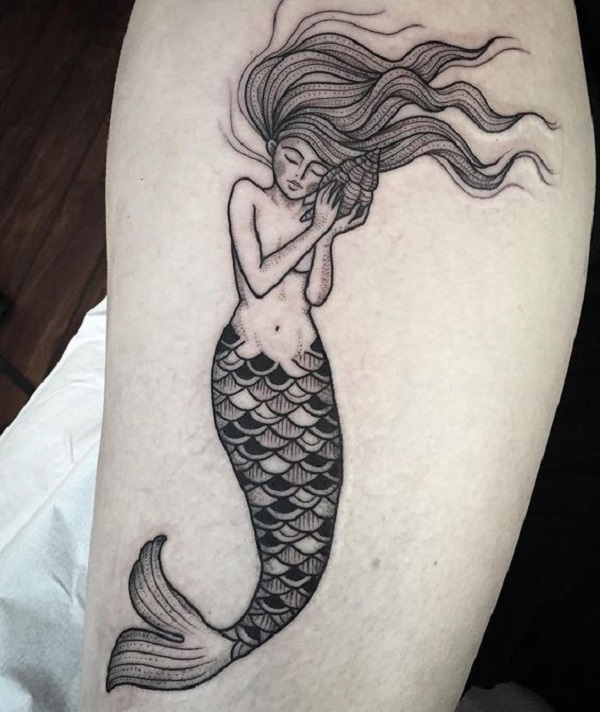 This Detailed Piece. A tattoo without details is no tattoo in actual.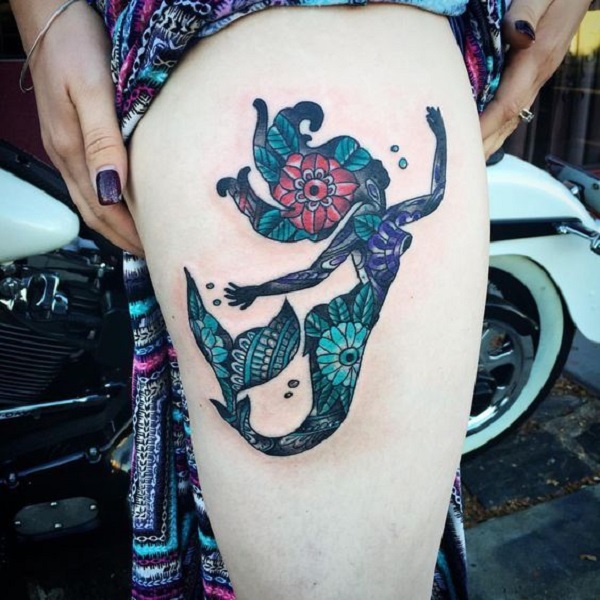 The Floral Mermaid Tattoo Design. This unique floral mermaid can get all your attention, so beware!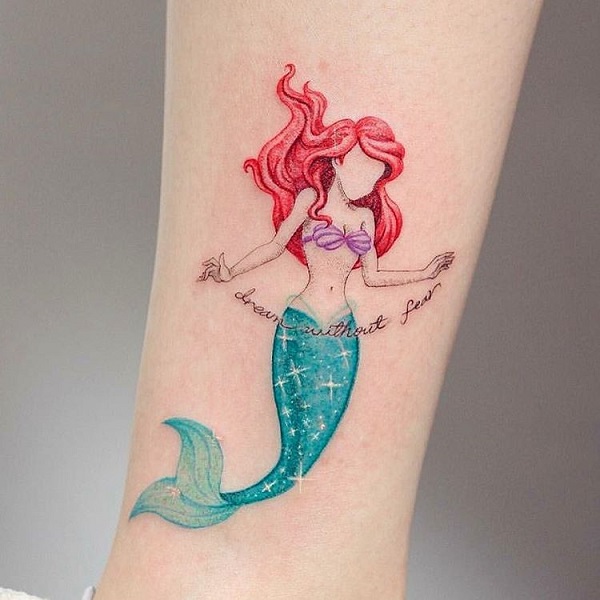 "Dream Without Fear" Arial Tattoo. This cute little Aerial tattoo has something to say.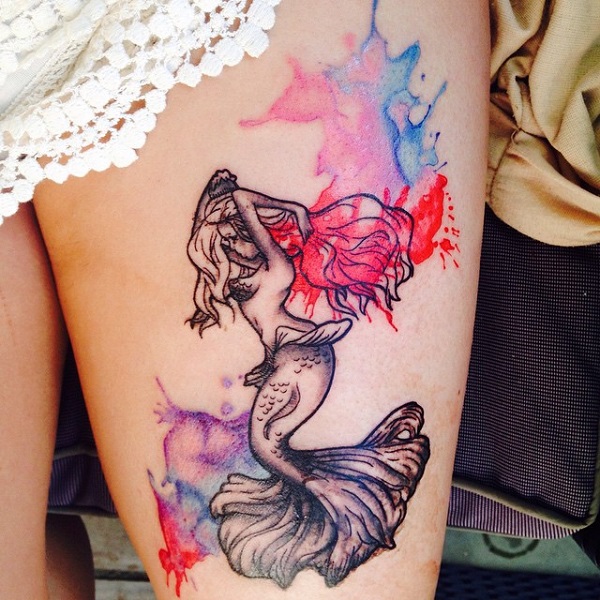 Dancing Colors. Dance with the flow of colors and you will love the world!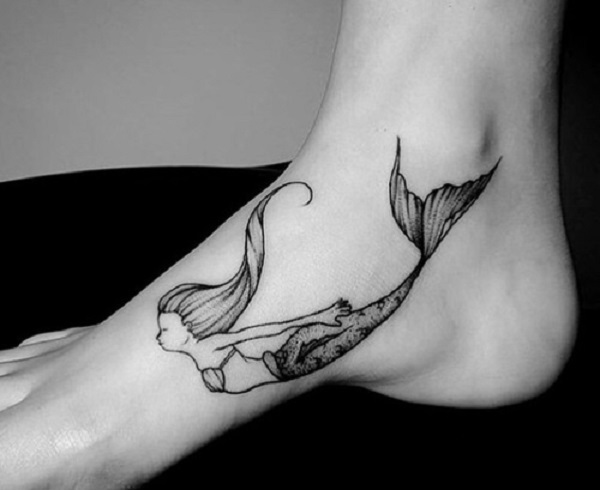 The Swimming Diva. The best part of the mermaid tattoos is that they can be placed anywhere you want and they will still look good.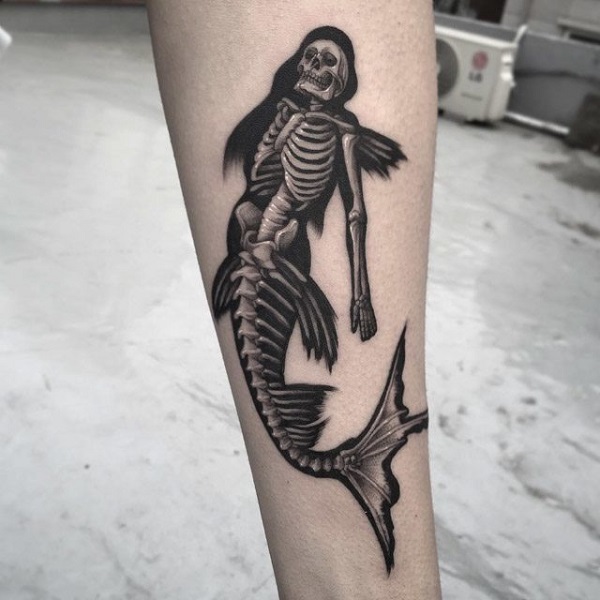 Skeleton Mermaid Tattoo. For all those who thinks mermaids to be some different creatures, this tattoo depicts that she's got the skeleton like all of us.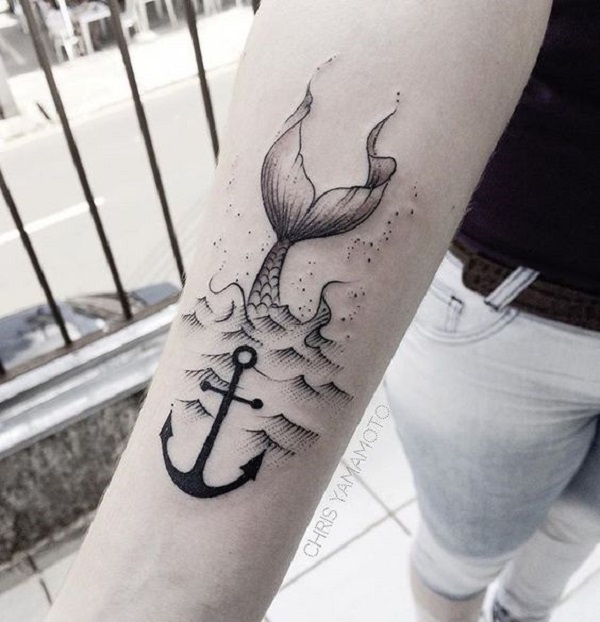 Anchor Mermaid Tattoo Design. This anchor mermaid tattoo is something worth getting a shot if you are looking for something unique.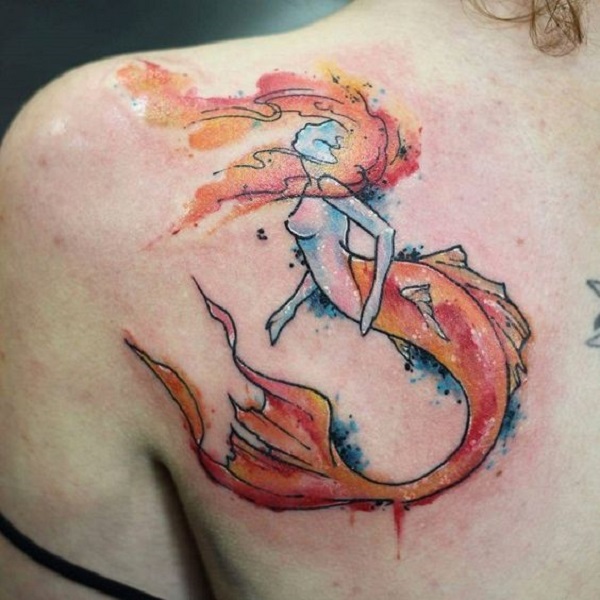 This Classic Flow of Design. The redhead mermaid is enjoying her life in the water.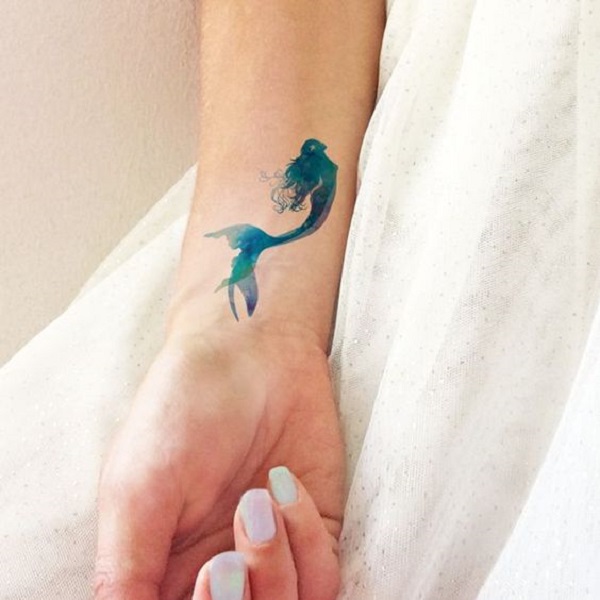 The Beauty Diver.This little wrist piece is worth getting if you are looking for something simple yet attractive.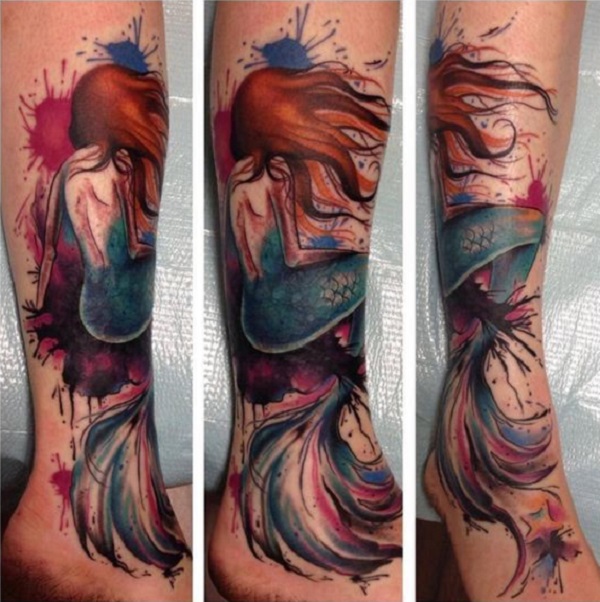 Peaceful Mermaid Tattoo Design. This peaceful mermaid has got lots of mysteries buried inside her heart.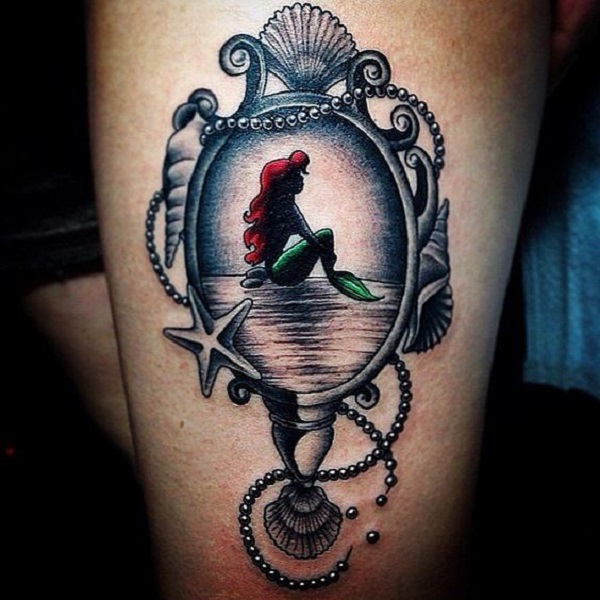 The Disney Beauty. This Disney Beauty is out of water to see the world!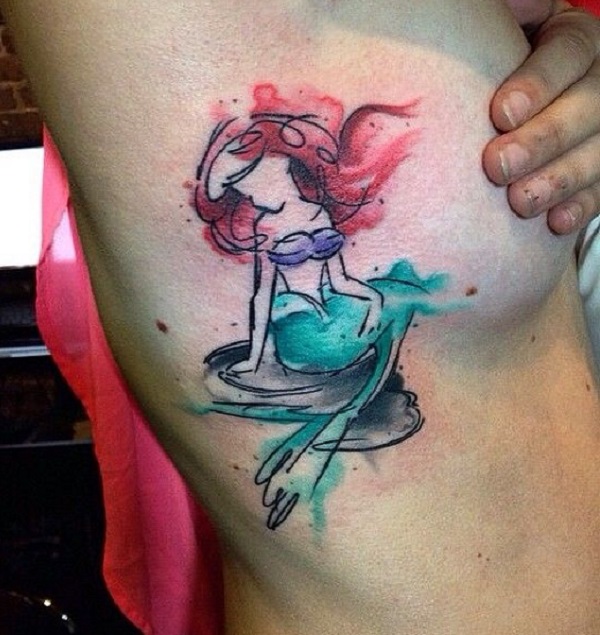 Vague Aerial Tattoo Design. Sitting over the water, this Aerial tattoo is definitely an inspiration for all the Aerial lovers out there.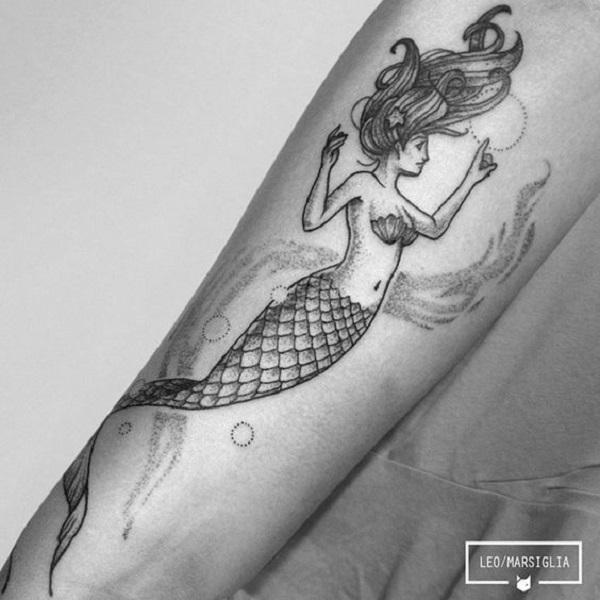 Going with the Flow Mermaid Tattoo Idea.  This beautiful flowing mermaid tattoo is placed on the forearm and I think this is the best placement for this tattoo.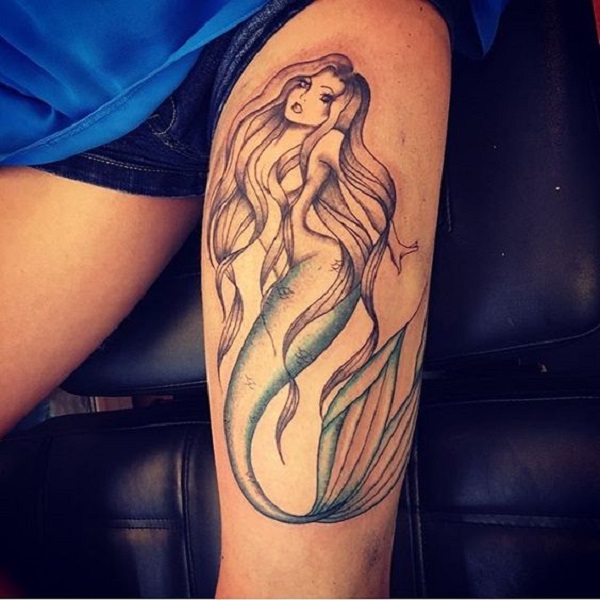 The Beautiful Mermaid Tattoo Design. This hit little mermaid is the true sex siren that can make all the guys fall.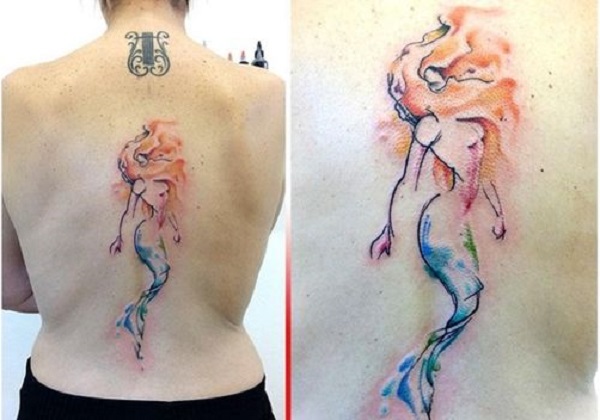 The Blonde Mermaid. This blonde mermaid back piece is truly the thing worth getting.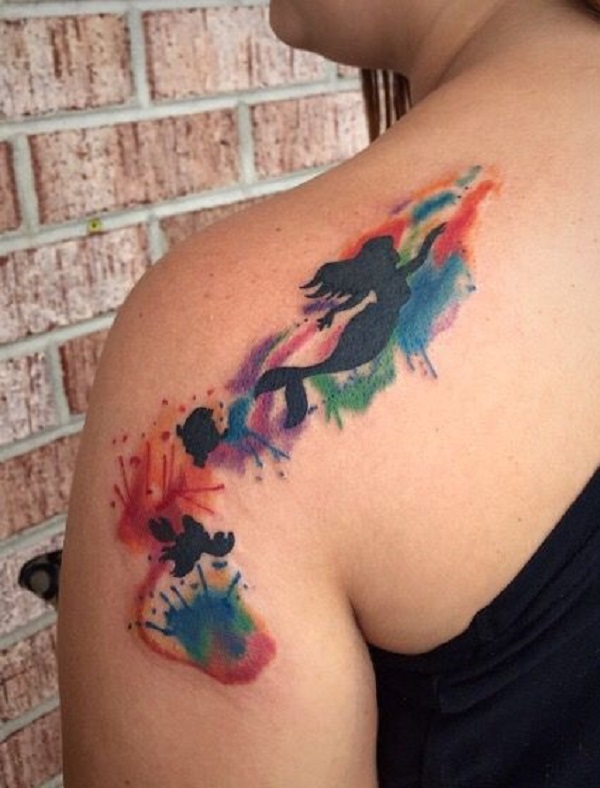 Diving with Colors Tattoo Design. This more of the shadow of the mermaid surrounded by rainbow colors makes another great tattoo for you.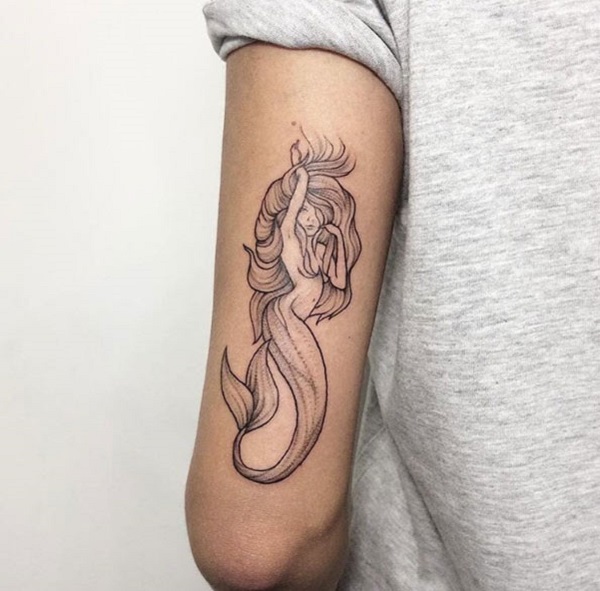 The Seducing Mermaid Tattoo Design. No colors, still beautiful!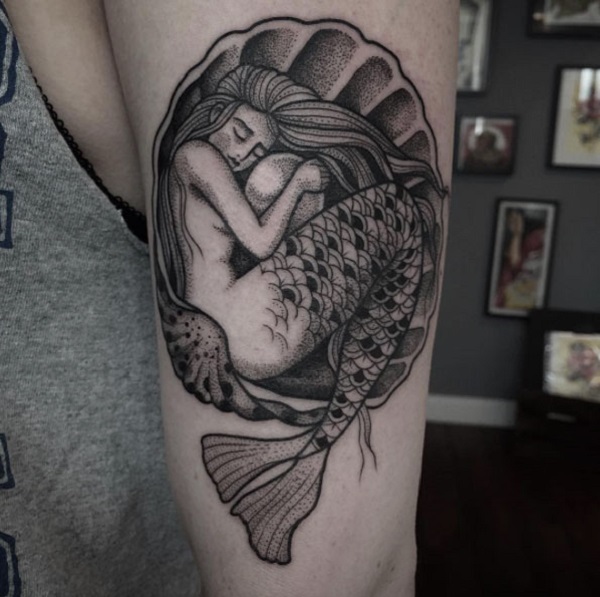 Hiding Mermaid. Mermaids have their own love for the sea creatures and treasures. This tattoo is the true depiction of love of a mermaid.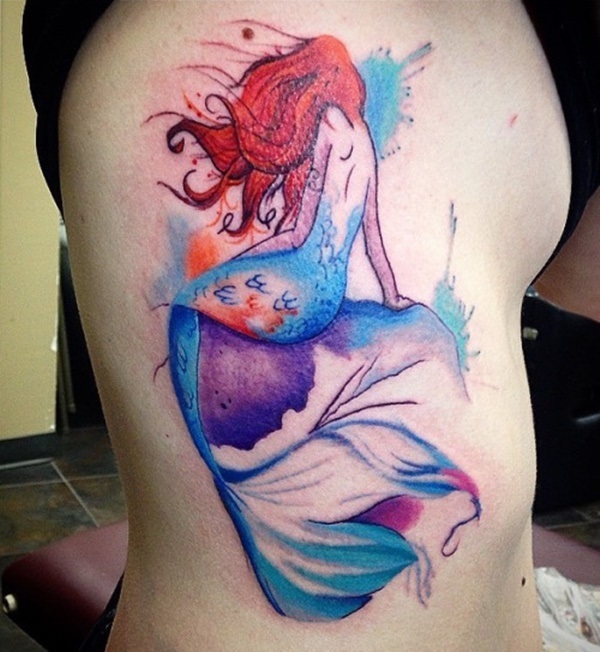 Mermaid Looking Away. This looking away mermaid is thought to be sad that she don't want to face anyone. The color scheme and the art in this tattoo are truly adrmirable.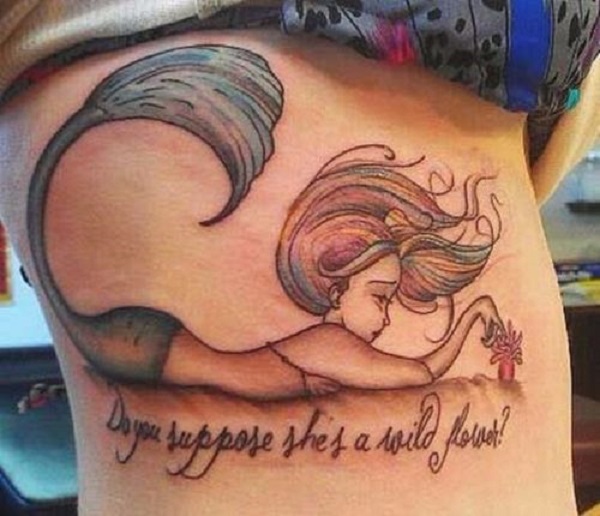 "Do You Suppose She's a Wild Flower?". As mermaids are often thought to be creatures with wild powers. This cute little mermaid is asking if you really think that?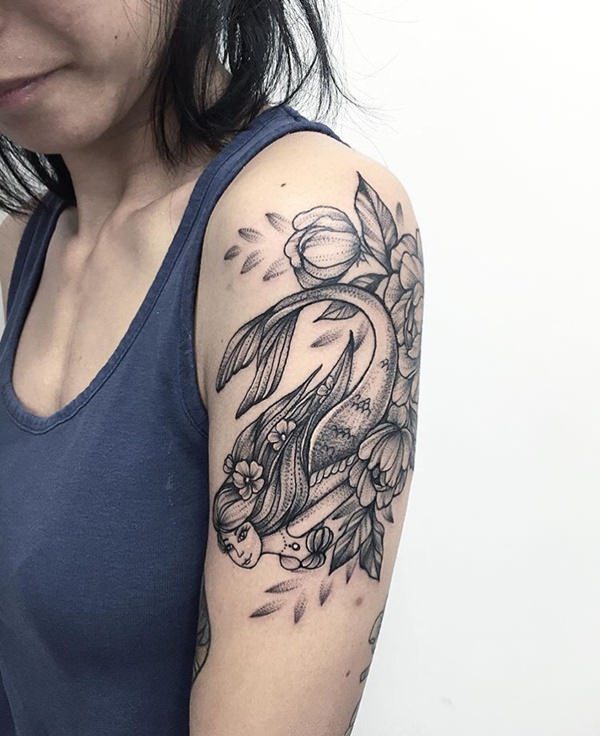 The floral Mermaid Tattoo. More often, mermaids are thought to be the queen of the sea, but this tattoo depicts that they are queen of flowers as well.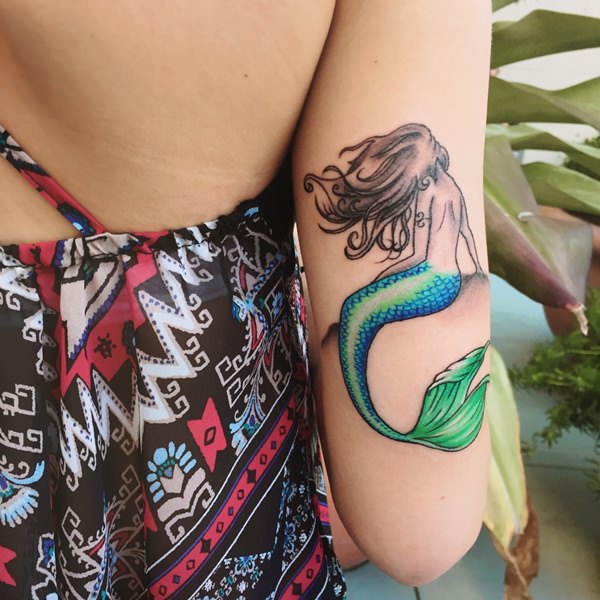 The Blue Mermaid. The mix and match of blue and green color and her hair are really attractive that can get attention of any person you want.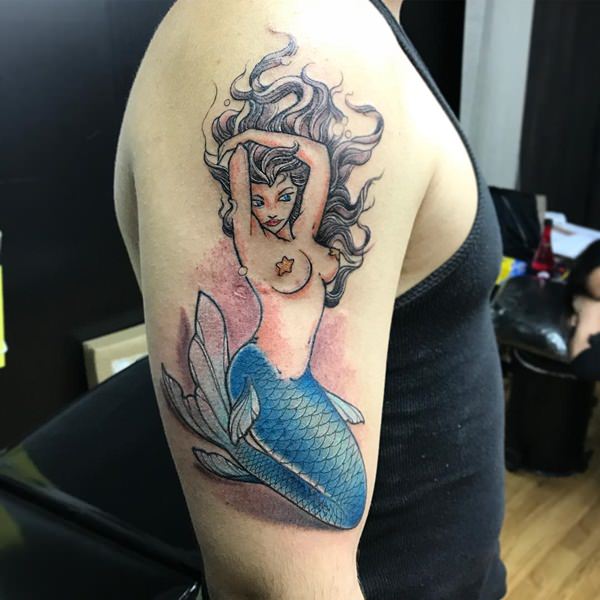 The Beach Beauty. This beach beauty is really seductive. What you think?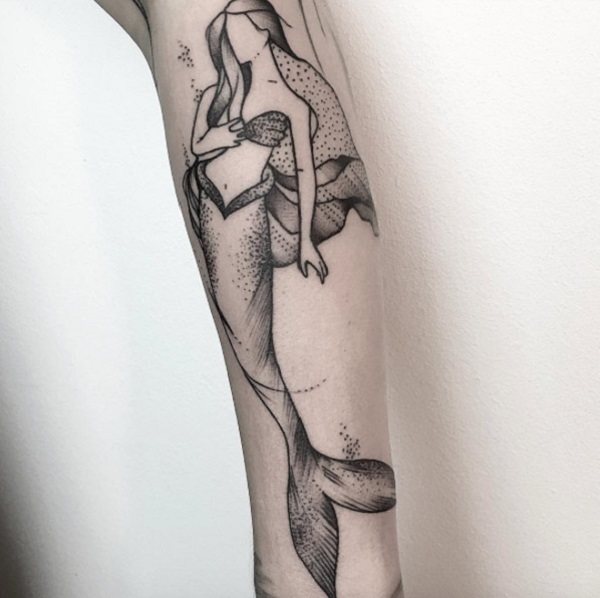 Mermaid Outline. This outlined mermaid tattoo is all about beauty and grace. It is a really simple yet beautifully done outlined tattoo that looks perfect on forearm.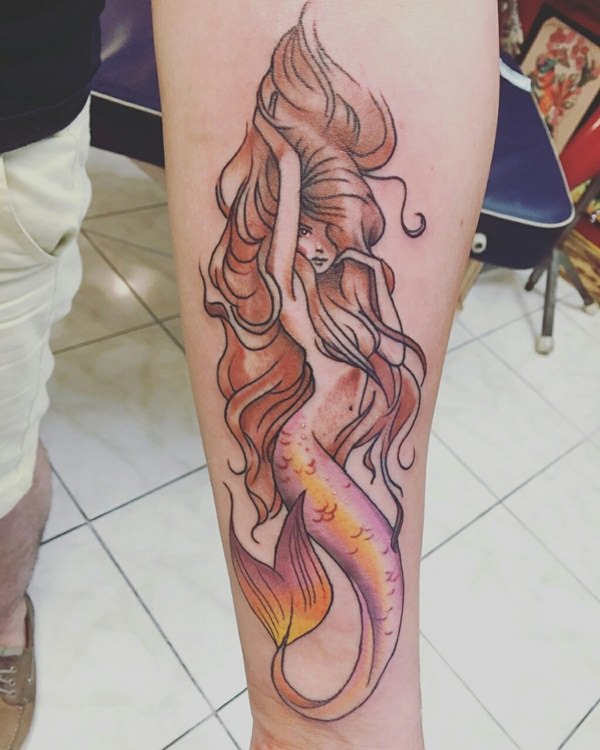 The Sea Diva. Don't fall for her beauty! She can wreck you away with a wink.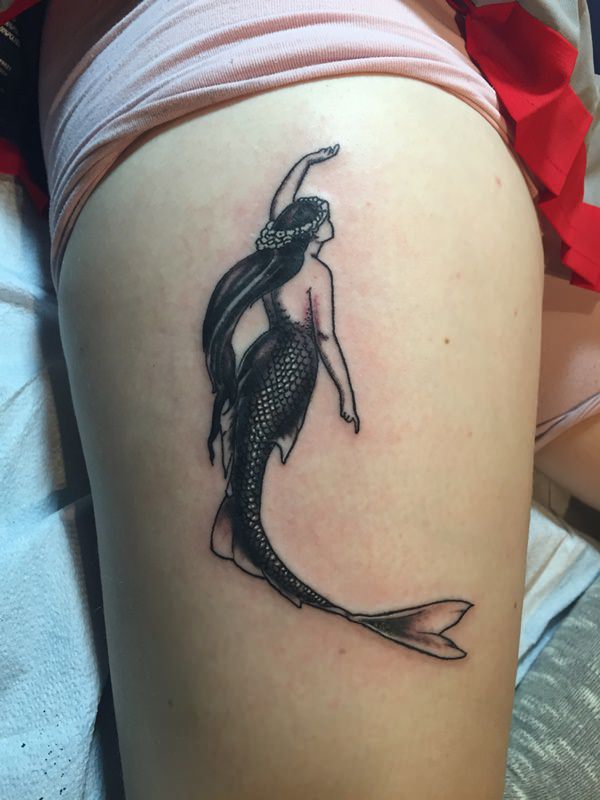 Shadowed Mermaid Tattoo Design. Mermaid tattoos look even good without colors. The above tattoo is an example.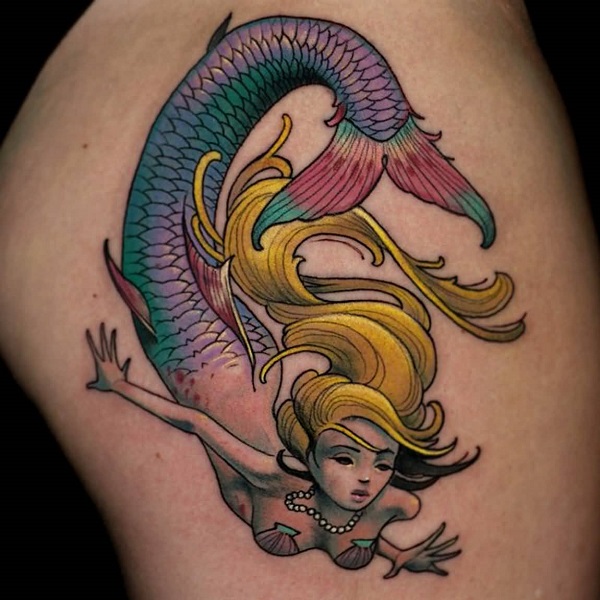 Yellow Head. This yellow head mermaid is the finest tattoo that I've ever seen.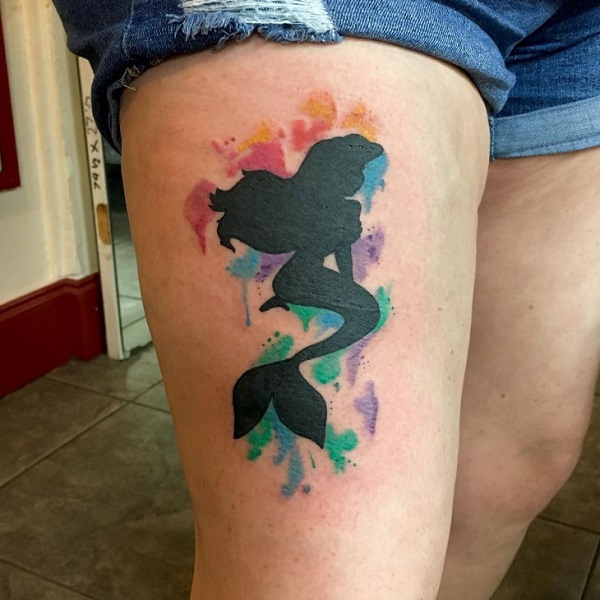 The Pop of Colors. Shadowed mermaid surrounded with the pop of colors makes another great tattoo to wear.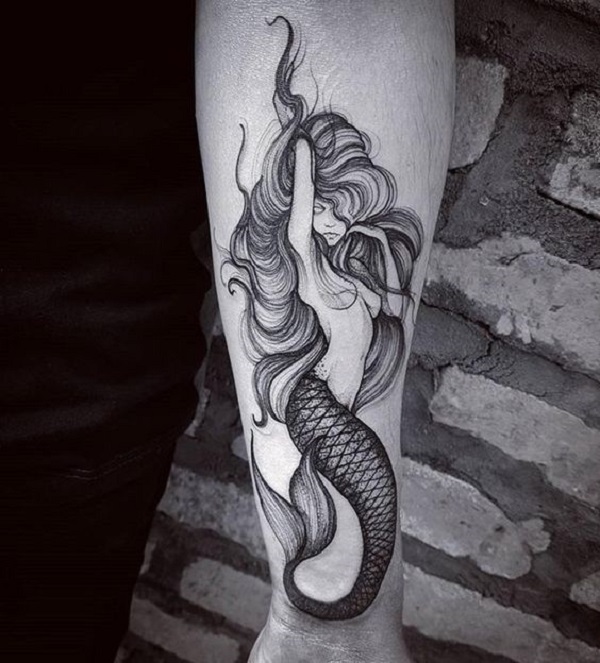 Hot Mermaid Tattoo. This medium- sized mermaid tattoo is surely the best thing that you can see on internet today.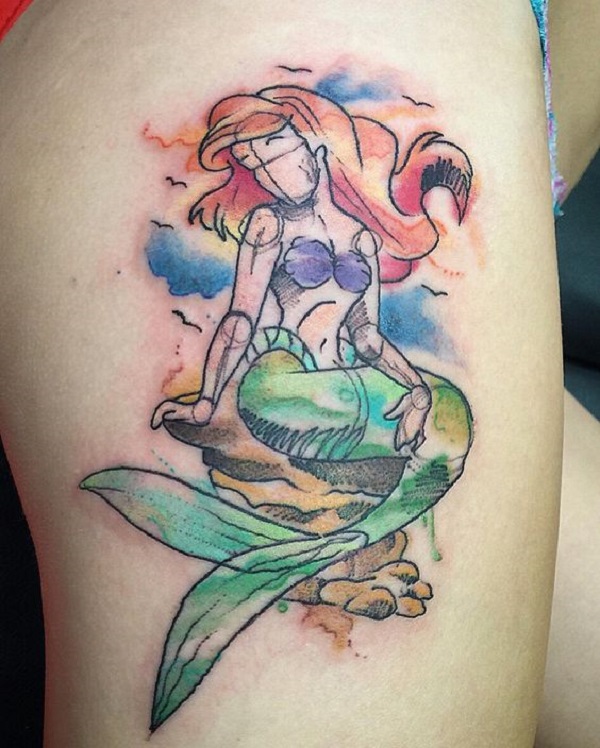 Another Aerial Tattoo Design. We cannot take our eyes off this beautiful Disney princess' tattoo. Can you?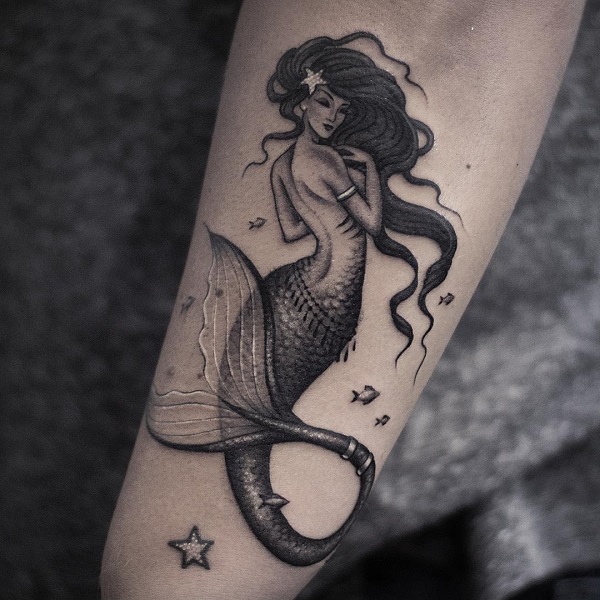 The Art of the Mermaid. This image is literally unbelievable. The details in her tail, her face, her curves, her hair are more than perfect.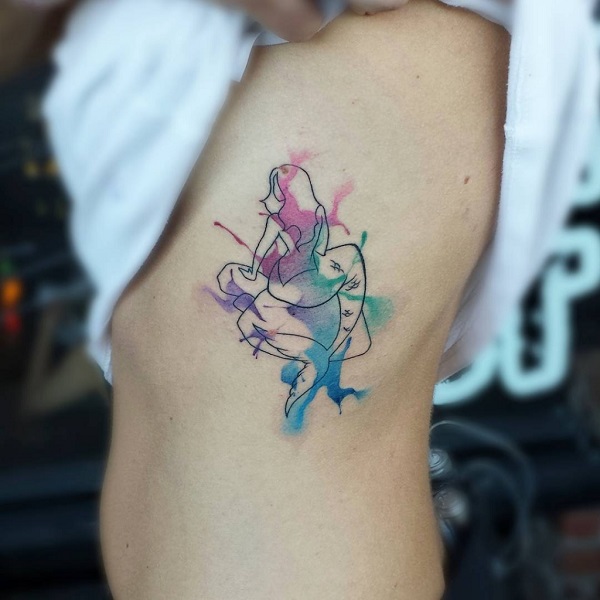 That Rib Piece. The colors cannot stay in the boundary. This splattered tattoo has many things to say!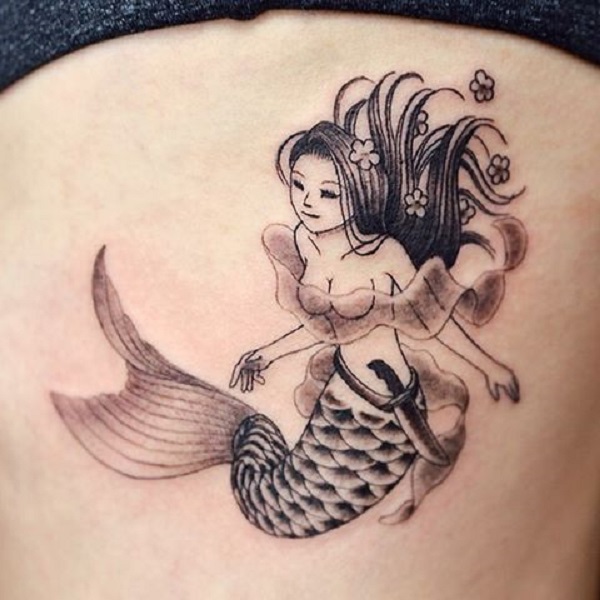 The Killer Mermaid Tattoo Design. Hotness on face and fieriness in her heart, this killer mermaid tattoo can rip your heart out if you try to mess with her.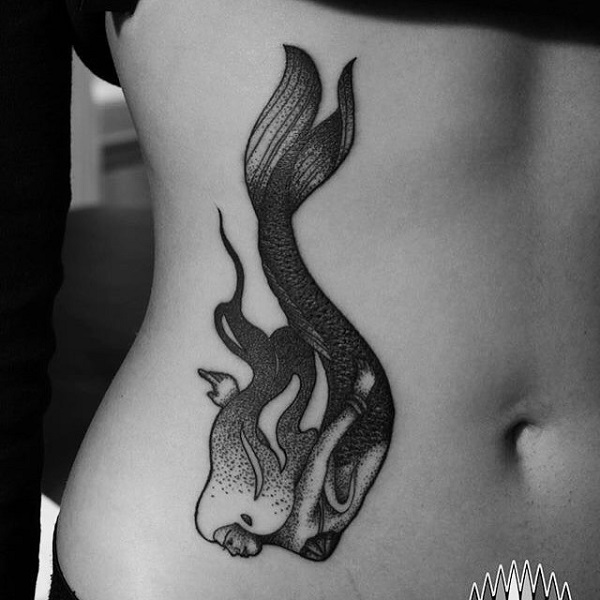 The Diving Diva. Want to dive down? Try going with this diving diva ;)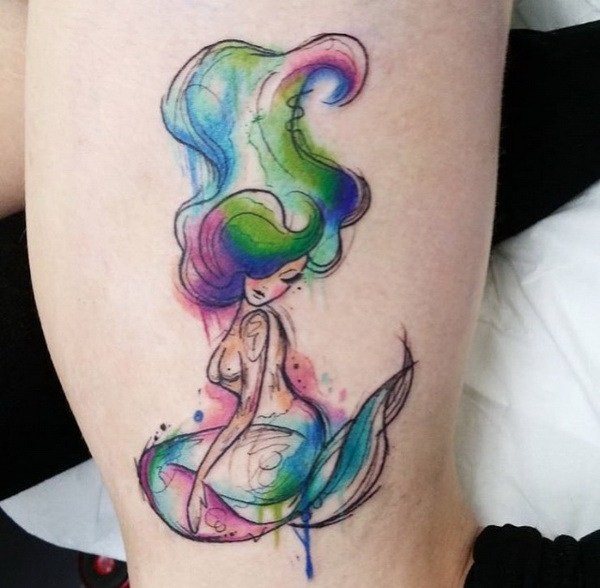 Multi-colored Hottie. This multi- colored hottie has got or heart. What about yours?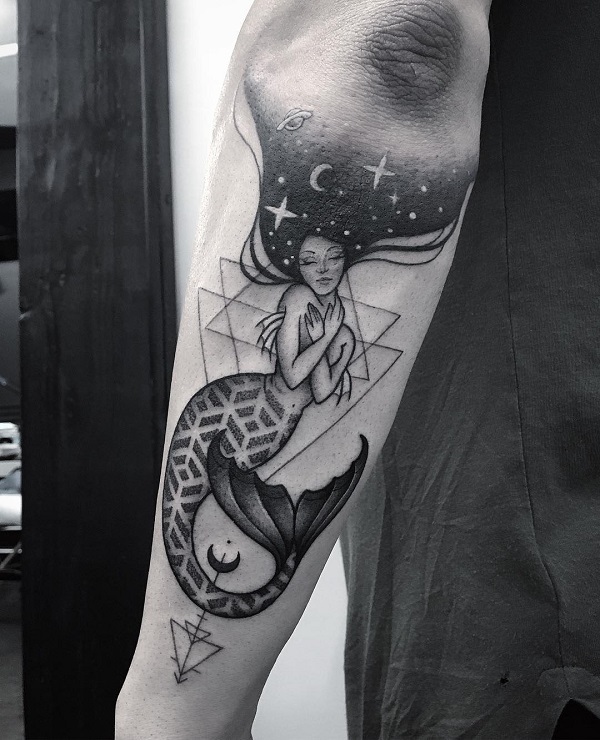 Geometrical Mermaid Tattoo Design. We are obsessed with this pretty little mermaid tattoo. You will too.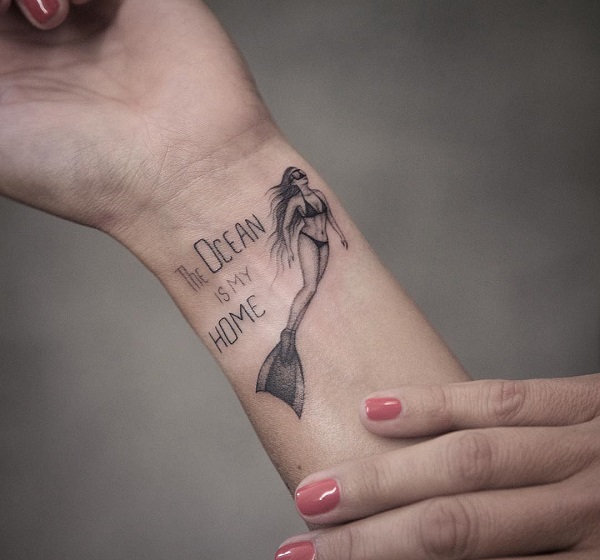 The Ocean Queen. Fan of swimming? this tattoo is made for you!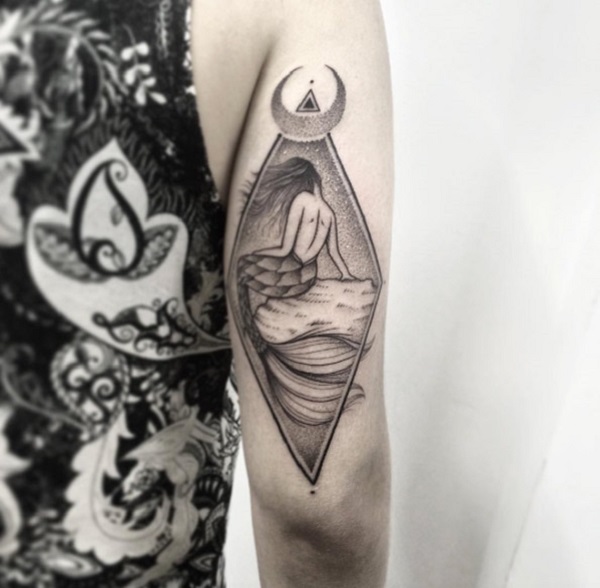 Another Geo Mermaid Tattoo Design. This geo mermaid tattoo is perfect for your elbow.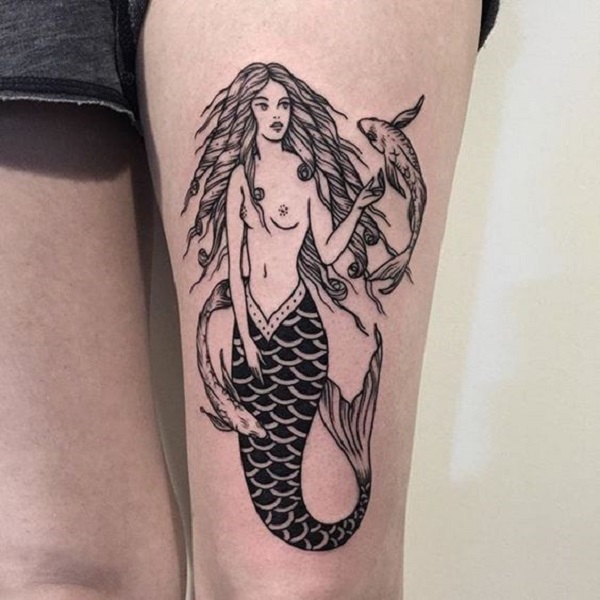 Playing with Fish. As mermaids are the queens of the sea, everything in the sea adores them!
Reaching for Sky. Aerial is trying to reach for sky. Are You?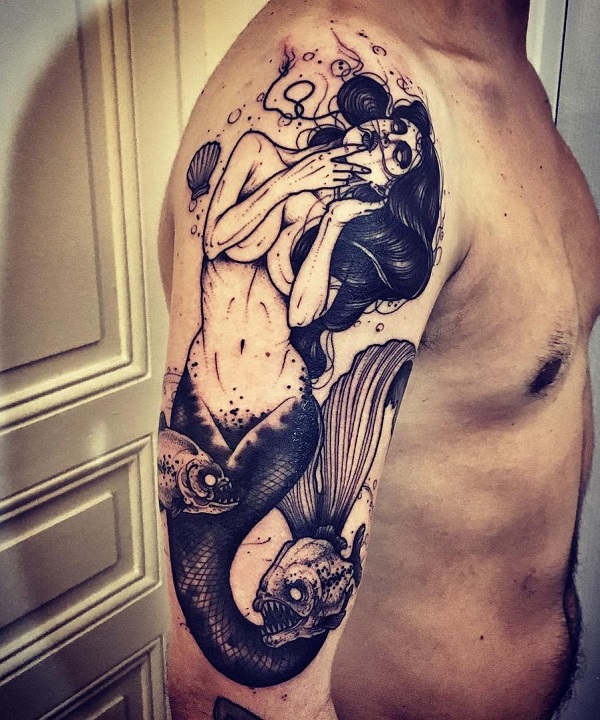 The Danger Mermaid Tattoo. Depicting her symbolism, this mermaid tattoo is definitely an alarm for danger.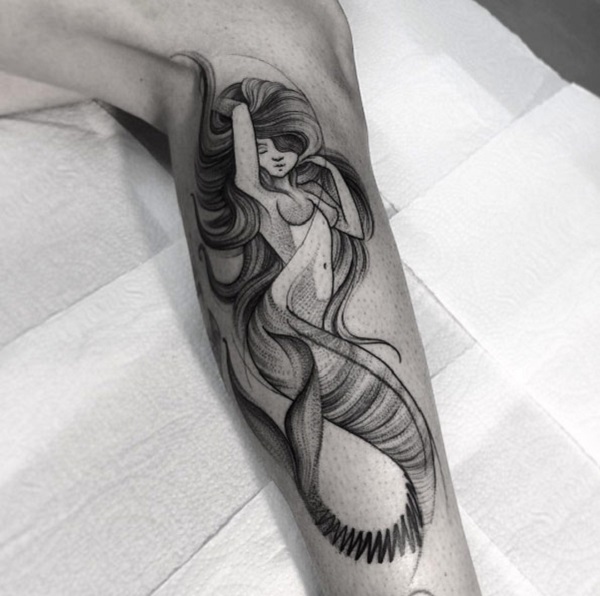 The Calm Mermaid Tattoo Design. This calm and shaded mermaid tattoo is definitely eye brow- raising.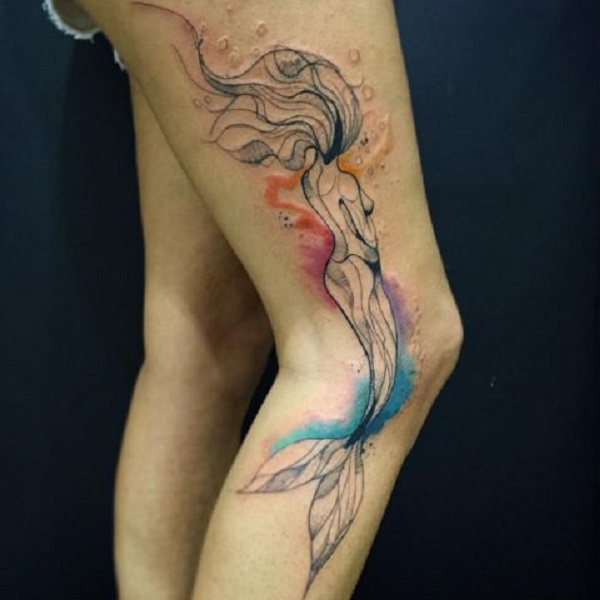 Fish Lady. This mermaid tattoo is settled on the leg of the wearer and definitely it is the sex siren.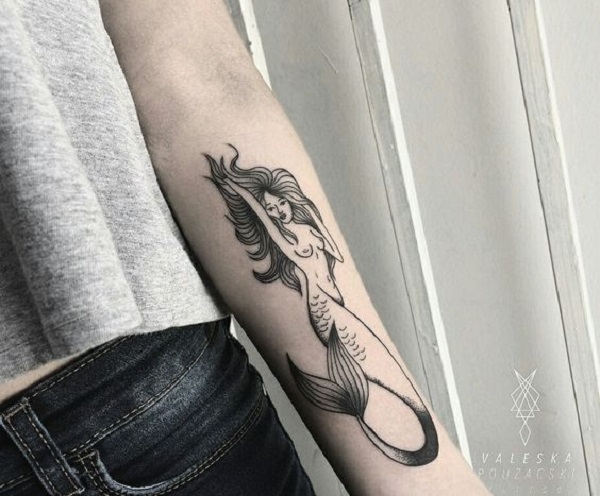 Forearm Mermaid Tattoo Design. This beautiful mermaid tattoo is definitely worth getting a shot.
The Shadow Swimmer. This crazy swimmer is really adorable. Don't you think?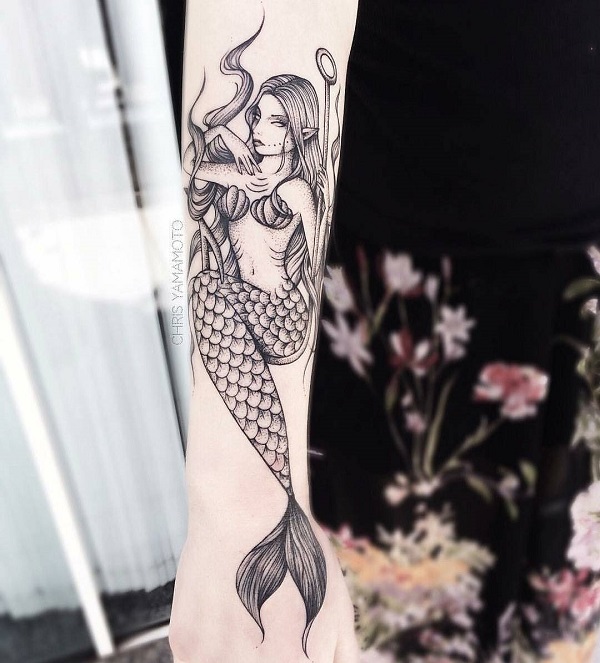 Hotness at its Peak. This hotness diva is sitting on the beach probably and is hanging out.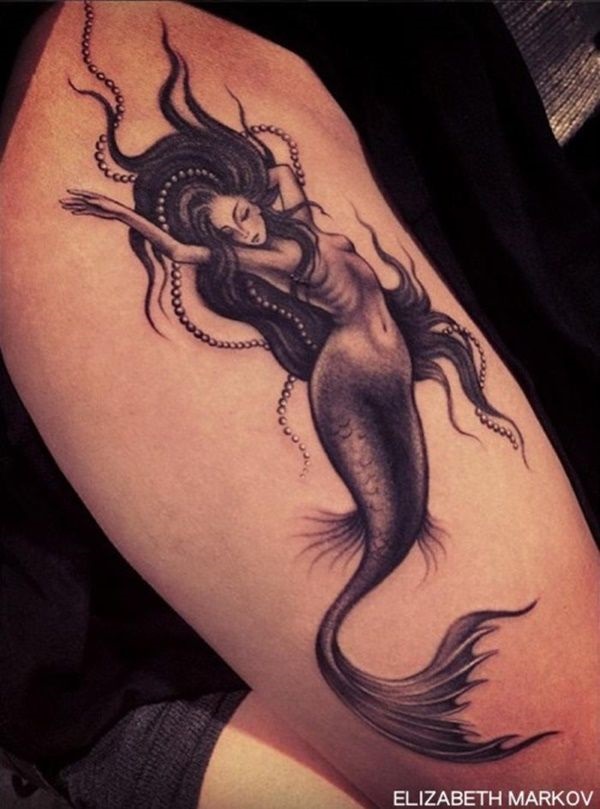 Dancing Mermaid Tattoo. The appearance of her black beaded hair and her features are truly admirable.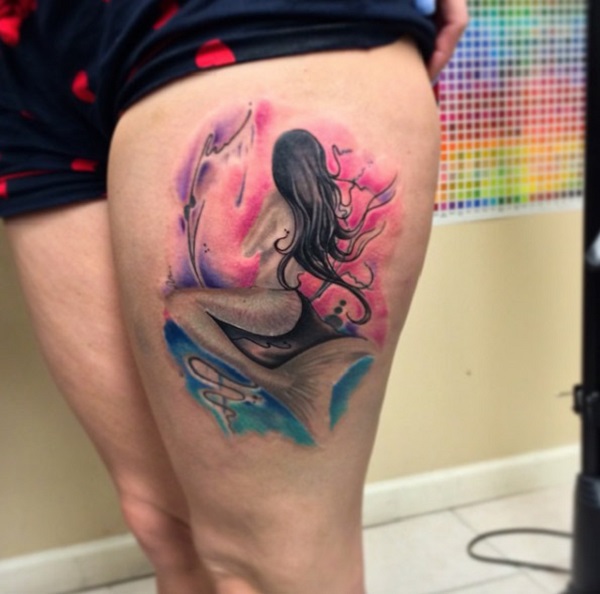 The Rainbow Colored Water. This rainbow colored and the shaded mermaid is perfect to wear.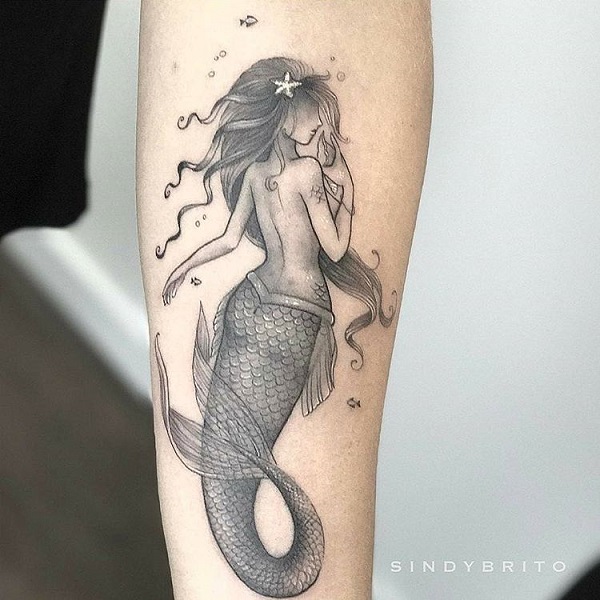 Those Curls. Her curls and the star fish pin on her hair are more than perfect. Isn't it?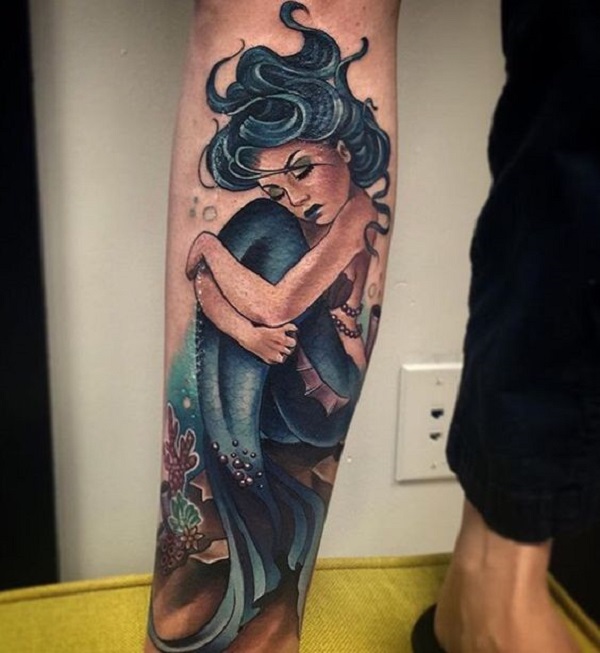 Sleeping Mermaid Tattoo Design. This undersea sleeping mermaid tattoo shows that she is calm and peaceful.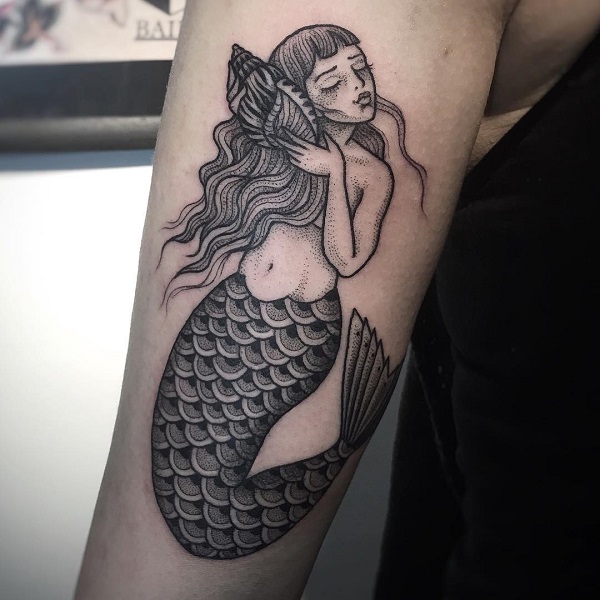 Lovely Mermaid Tattoo. The element of temptation comes from their beautiful feminine look and features that many sailors would find irresistible. That is what this tattoo depicts.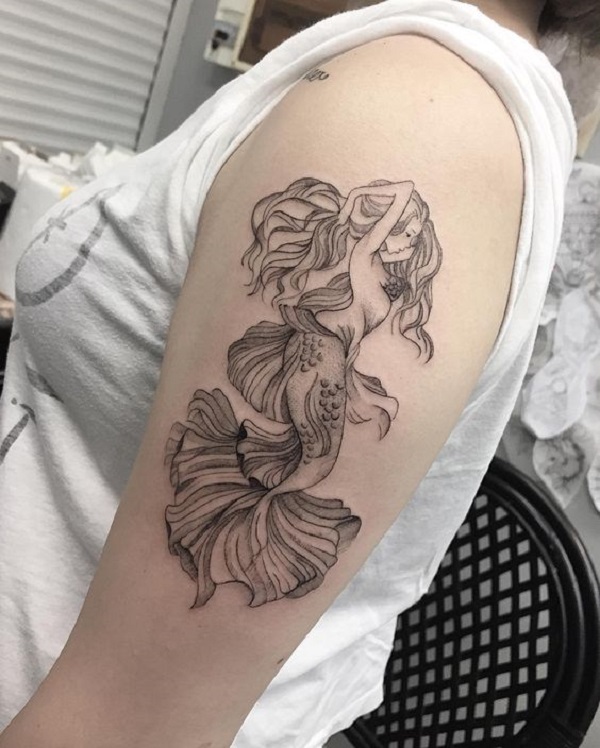 The Sleeve Mermaid. Get this sleeve mermaid tattoo and and be yourself.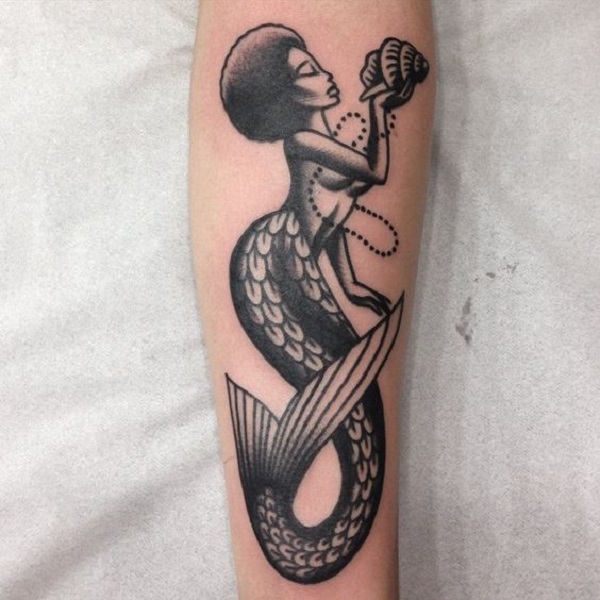 The Black Mermaid. Mermaid comes in all colors and sizes. This tattoo might be depicting equality among all of us.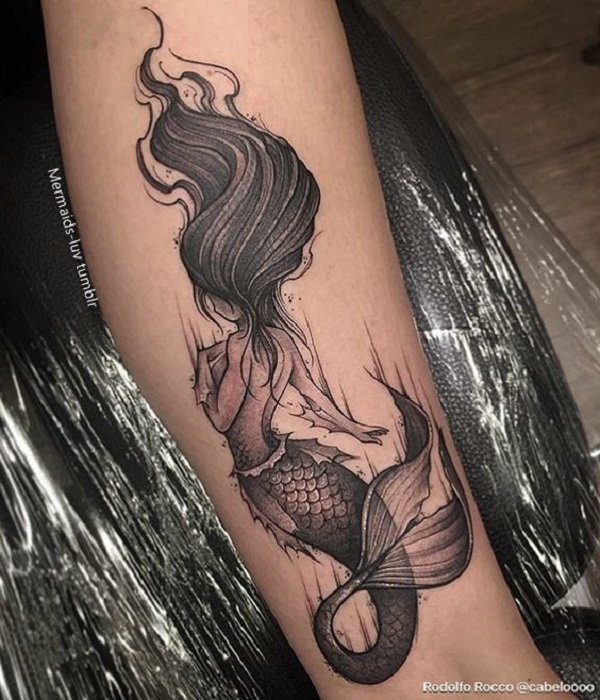 The Curvy Mermaid. This curvy mermaid can make any guy seduced. Wanna try?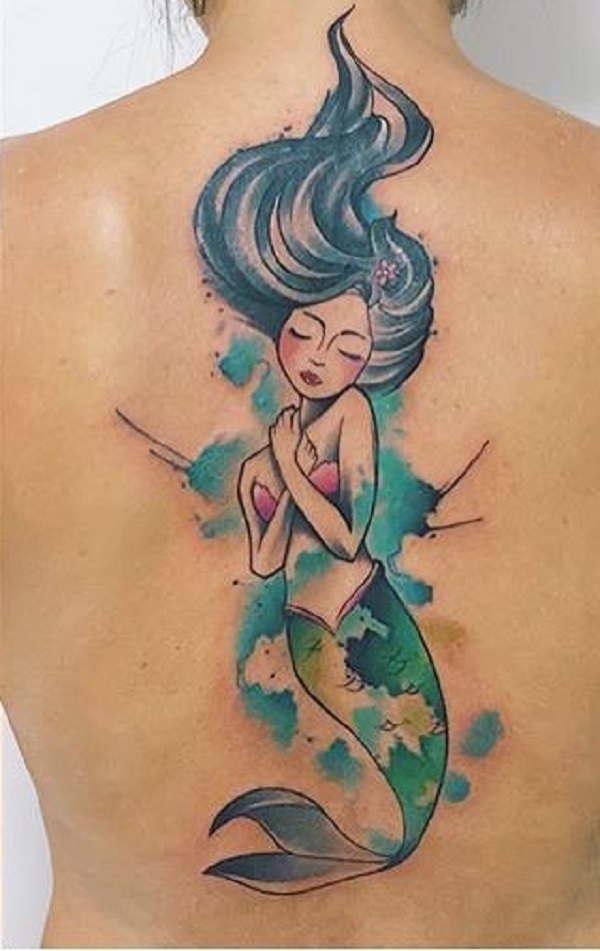 The Epitome of Beauty. Mermaids are the true epitome of beauty and that is what been depicted in this tattoo.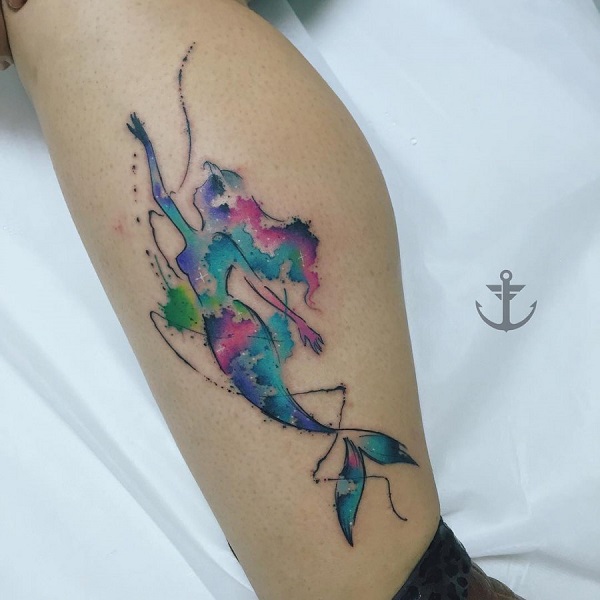 Water- Colored Mermaid Tattoo Design. Water colored tattoos always look good and when they are coupled with mermaid tattoos, they are irresistible.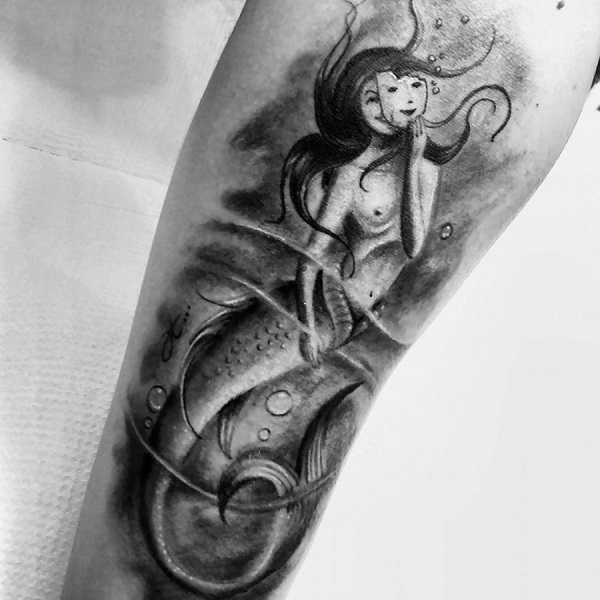 Dual Faced Mermaid Tattoo. As mermaids depict dual nature, this tattoo offers the true of depiction of their charter.
Mermaid tattoos are really magical and mesmerizing. Get one yourself and see!