Flower tattoos have always being in fashion, since the time of the evolution of tattoos in Japanese and Chinese culture. No matter what kind of flower you carve on your body, it represents femininity, beauty and tenderness. These flowers tattoos are popular all across the world, especially in East and that is the reason they have been considered the popular tattoo designs there.
Among most of the flowers, Magnolia flower tattoos are most popular in the Eastern countries, especially among the women. Often these magnolia flower tattoos are carved simple, uncomplicated and with the mix of different colors. These tattoos look unique, attractive and refined at the same time.
The Meaning of Magnolia Flower Tattoo Design:
According to Chinese and Japanese tradition, the magnolia flower tattoos depict diverse meanings and offer different symbols based on its colors. Each color depict different meaning and it stands for:
Purity
Simplicity
Yearning
Love
Nature
Beauty
Charm
Self-Esteem
Self-sacrifice
When these flowers are carved with pink color, they attribute the feminine symbol. White and yellow magnolia flowers denotes lunar and solar goddesses. Due to its number of meanings and diverse nature, the magnolia flower tattoos seemed to be loved by people all over the world. Its sophisticated sense of style and diverse colors makes this kind of flower tattoo perfect to be placed on any part of the body.
So, if you want to embellish your body with magnolia flower tattoo designs, then have a look at our top picks and choose the most suitable one for you.
70 Creative Magnolia Flower Tattoo Designs:
Fasten you seat belts and enjoy the ride to the most beautiful Magnolia Flower Tattoo designs below: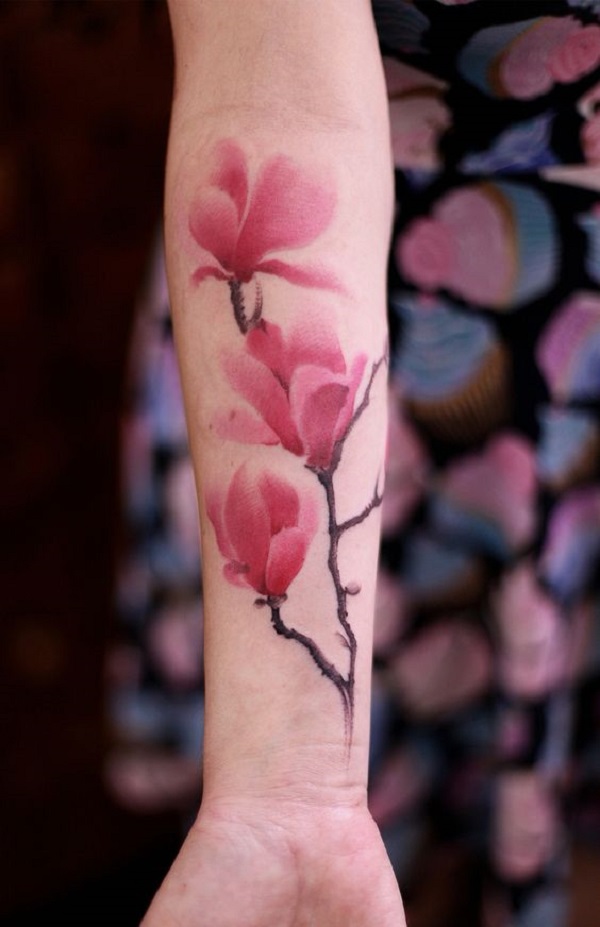 3 Pink Magnolia Flower Branch. A number of Magnolia flowers are joined to enhance the beauty of this tattoo.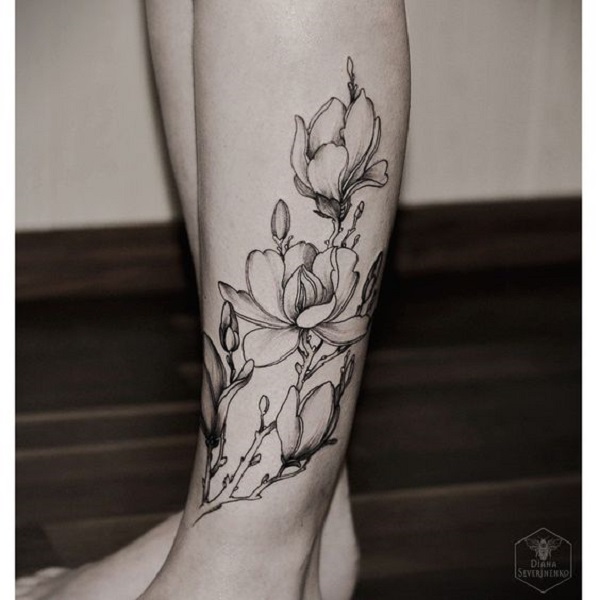 Sketched Magnolia Flower tattoo. More or less, the sketched version of tattoos are more in fashion than the colored ones.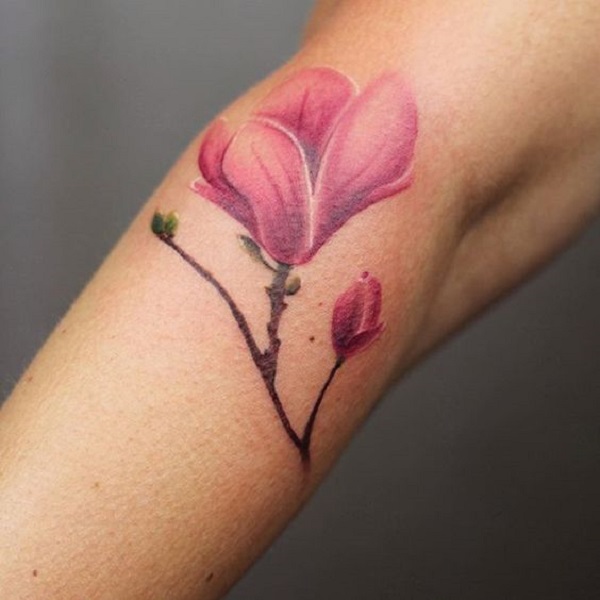 An Elegant magnolia Flower For Elbow. You can adjust the size of the tattoo according to the part you are going to carve it. However, this size is perfect for elbow part.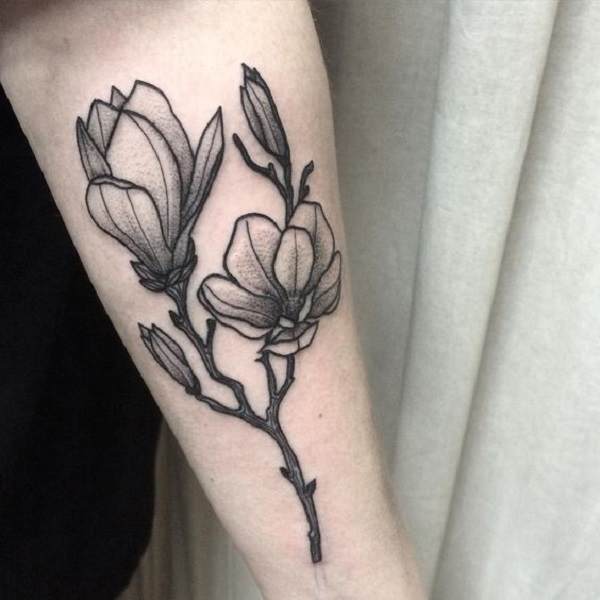 Skentchil Magnolia Flower Tattoo for Inner Arm. Another Sketched magnolia flower is on the list, that is beautiful in its own style.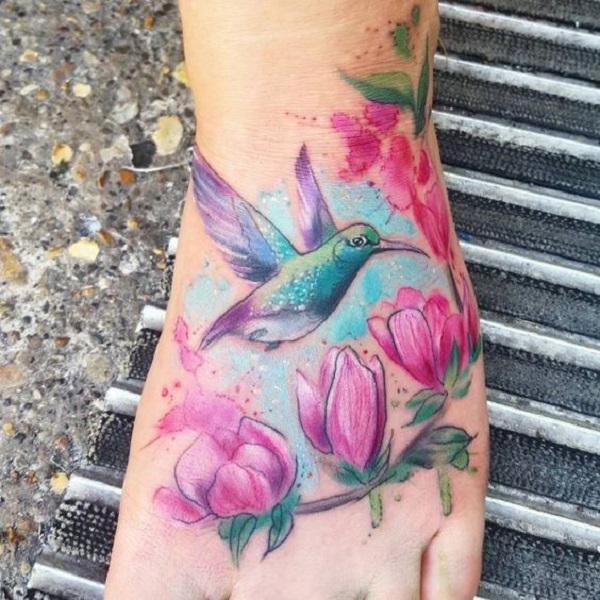 Magnolia Flowers Coupled with sweet Bird. As birds depicts freedom, magnolia and birds coupled to give the meaning of purity, freedom, strength and peace.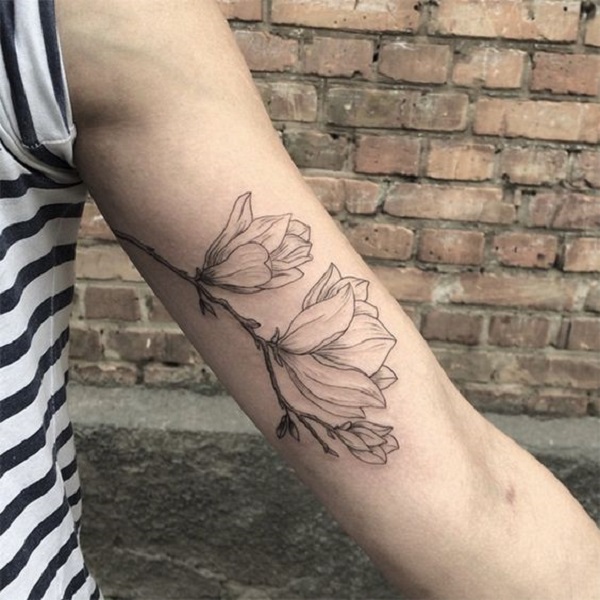 Unique Magnolia Flower Branch Tattoo. Another beautiful magnolia flower tattoo, that is worth trying.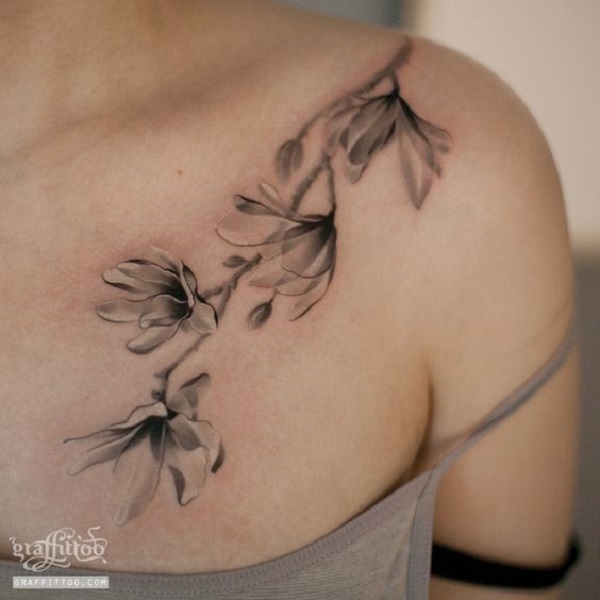 The shoulder Magnolia Flower Piece. Grey ink is always used, when it comes to carve the classic and exotic tattoos.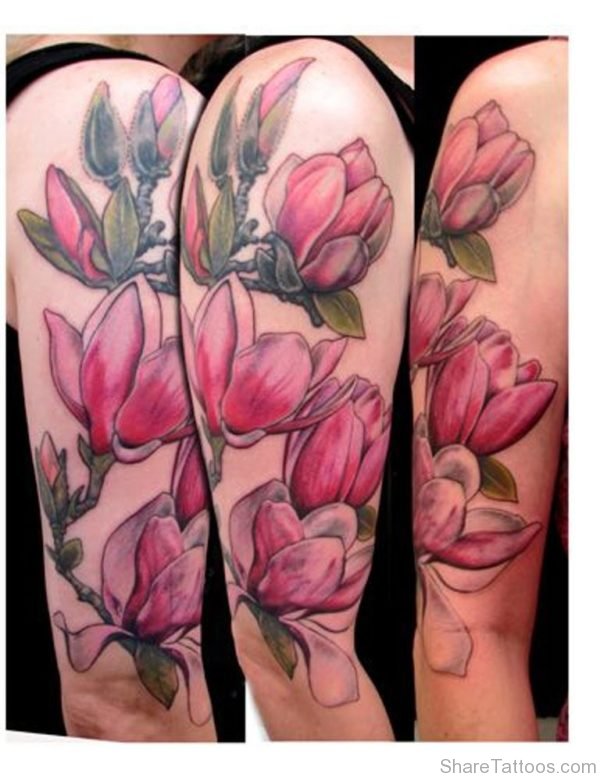 Realistic Magnolia Flower Tattoo Design for Upper Arm. Go embellish your sleeve with this perfect and realistic magnolia flower tattoo design.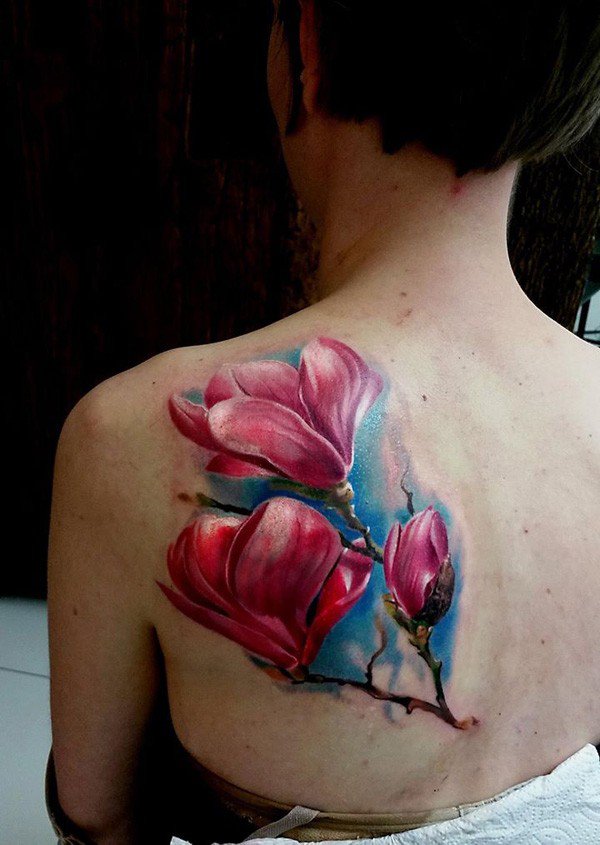 Magnolia Flower Back Tattoo. Back is the perfect placement, when it comes to tattoo. You can embellish your back with this magnificent red and blue magnolia tattoo design.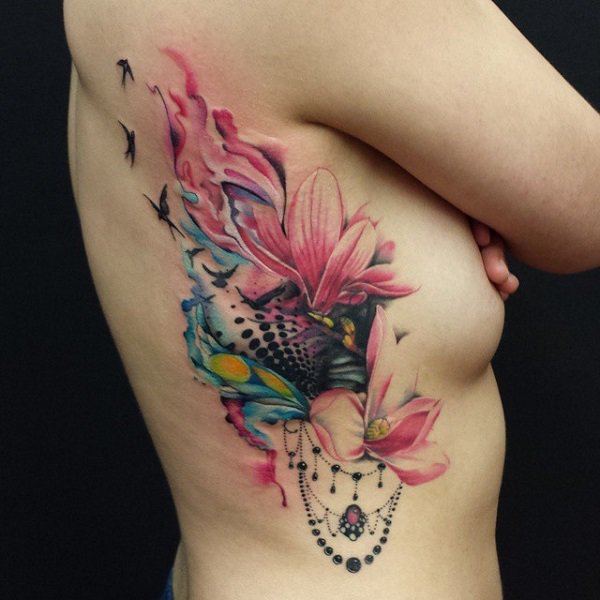 The Magnolia Flower Rib Piece. You can also place your magnolia flower tattoo on the ribs so that, you don't need to hide it during your office hours.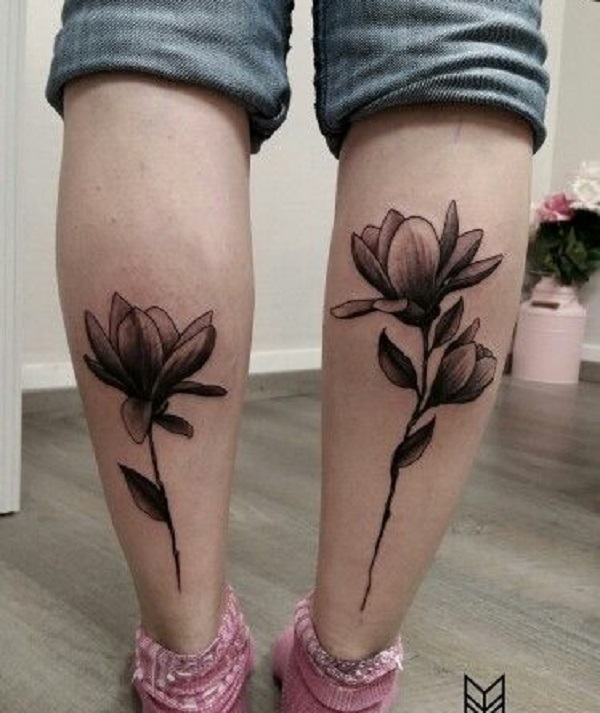 Twin Magnolia Flower Tattoos for calf. Bold girls love to place their tattoos on their calves. These twin tattoos of magnolia flowers would definitely enhance your look.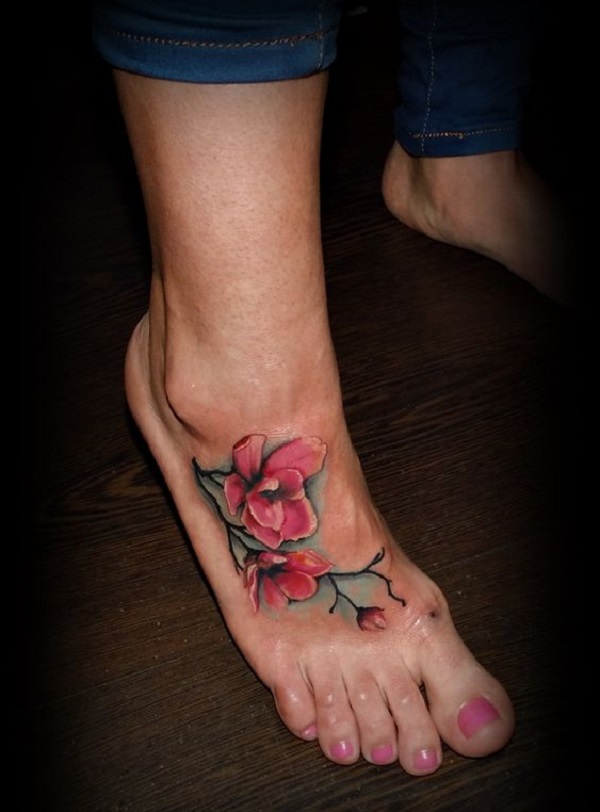 Red Magnolia Flower Tattoo for Foot. The red magnolia flower tattoo looks realistic, as it is fallen on foot.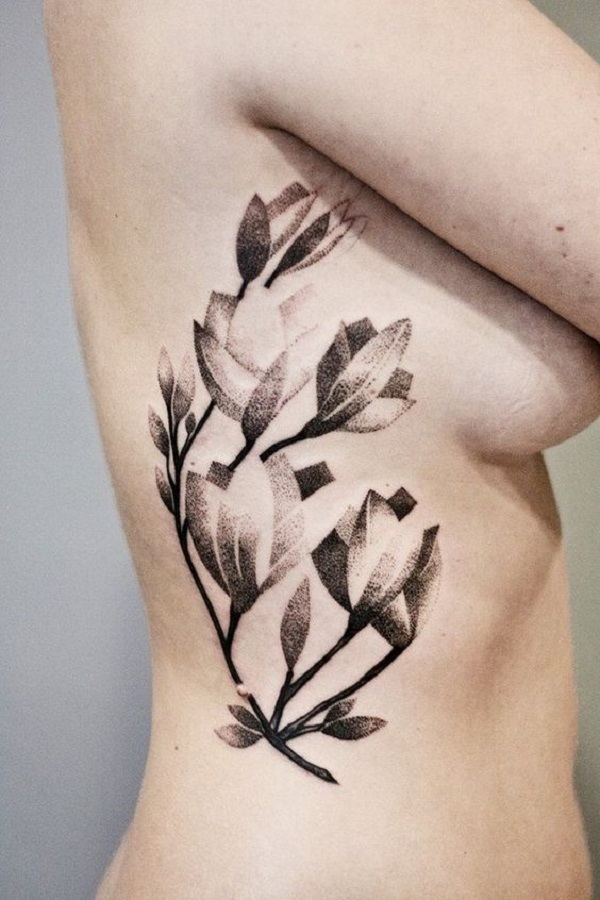 Black and White Printed Magnolia Flower Tattoo Design. First, the magnolia flower tattoos were inked with black and white printed style.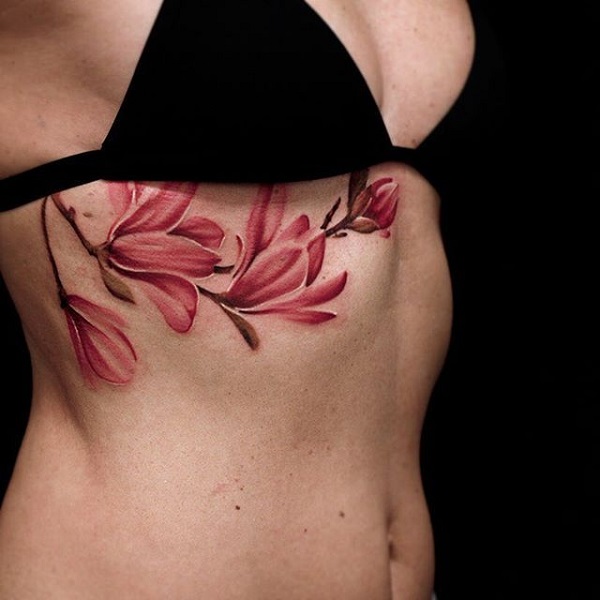 The Rib Branch. if you are looking something to cover your ribs, here's what you need.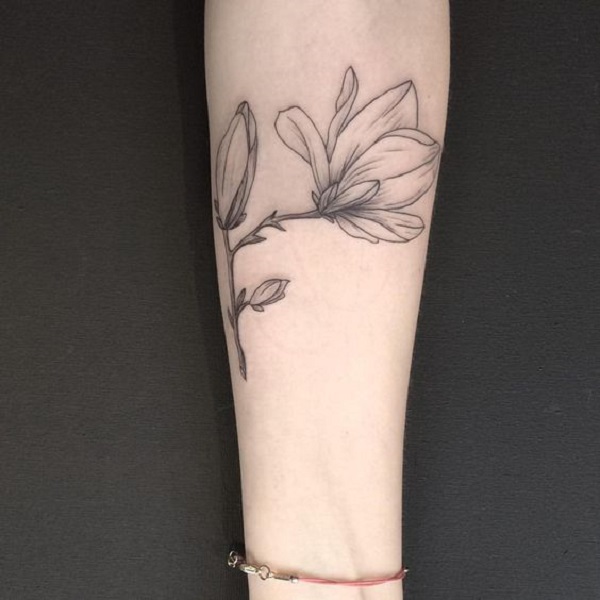 Grey Inked Magnolia Flower Tattoo. An outline of the magnolia flower looks perfect on forearm.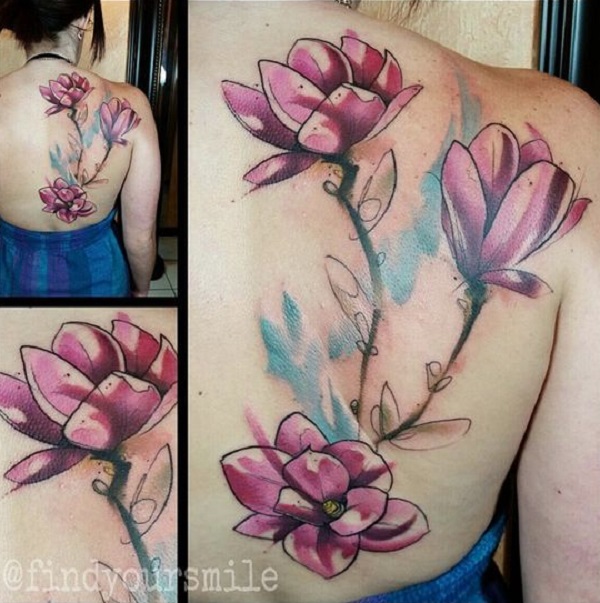 Magnolia Flower tattoo for Shoulder. If you are in quest for a tattoo for your shoulder, then this one can make your choice.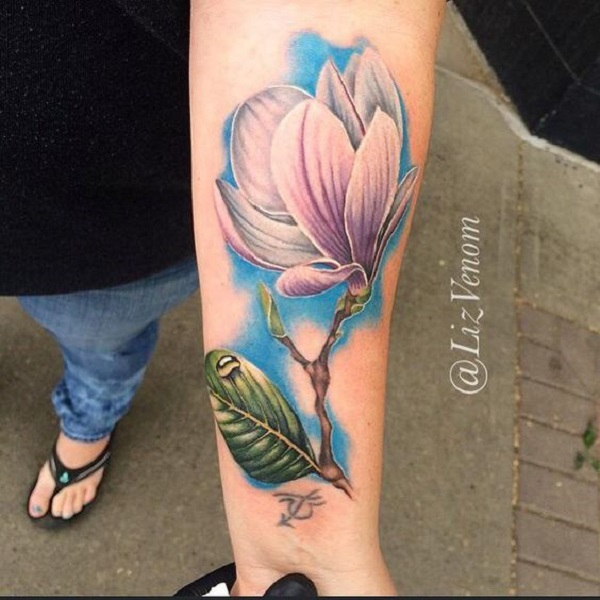 Magnolia Flower Tattoo with Blue Background. Magnolia flower with blue background makes a perfect tattoo for inner arm.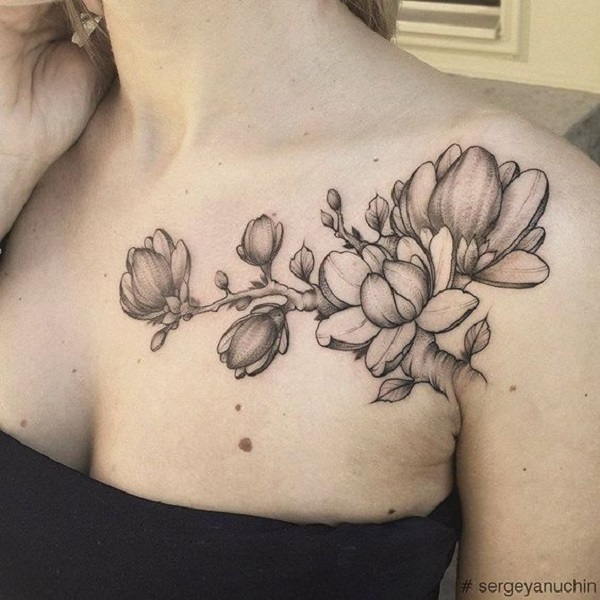 Shaded Magnolia Flower Tattoo Design. Whether you try out a colorful magnolia flower tattoo or just a shaded one, they both look magnificent.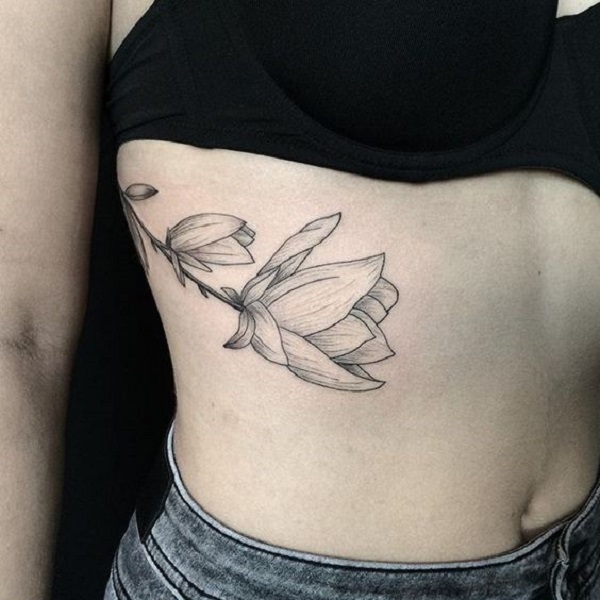 Grey Inked Magnolia Flower for Ribs. Grey inked magnolia flower also makes the best ever tattoo design. You can place it whether on your ribs or anywhere you like.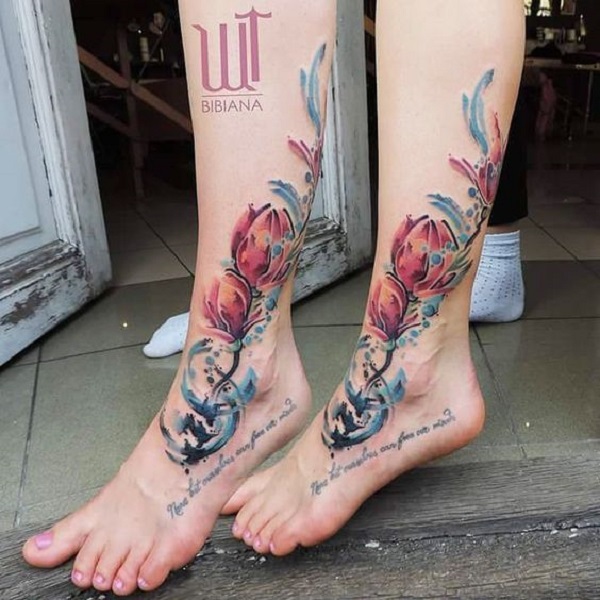 Magnolia Flower Design with Quote. Tattoo with quotes have also been in fashion for the past few years. You can couple the magnolia flower tattoo with a quote just like the one in picture.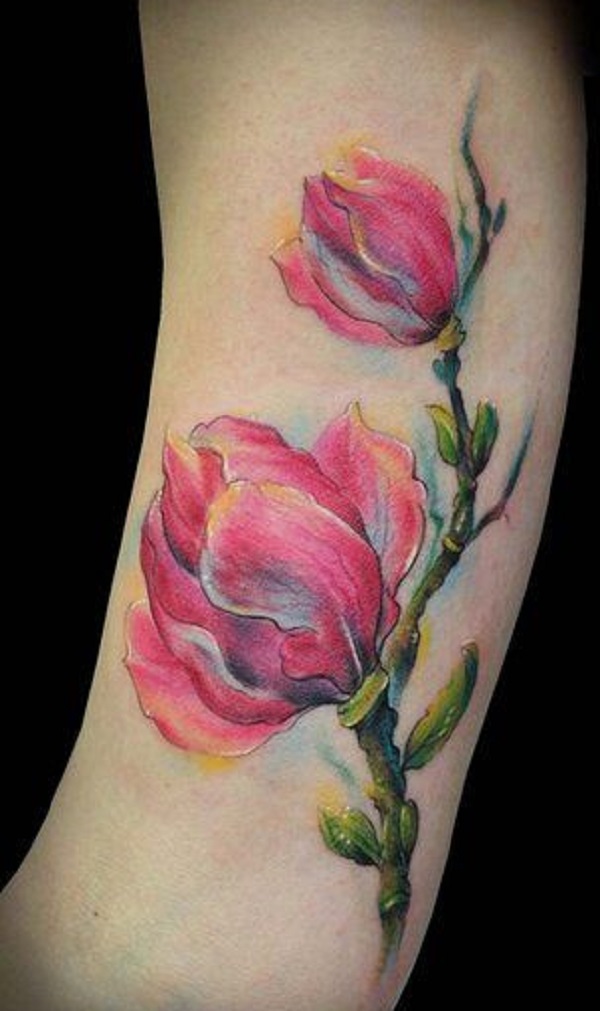 Realistic Magnolia Flower Tattoo For Legs. If you are looking for a tattoo on your legs, considering this one won't make any bad idea.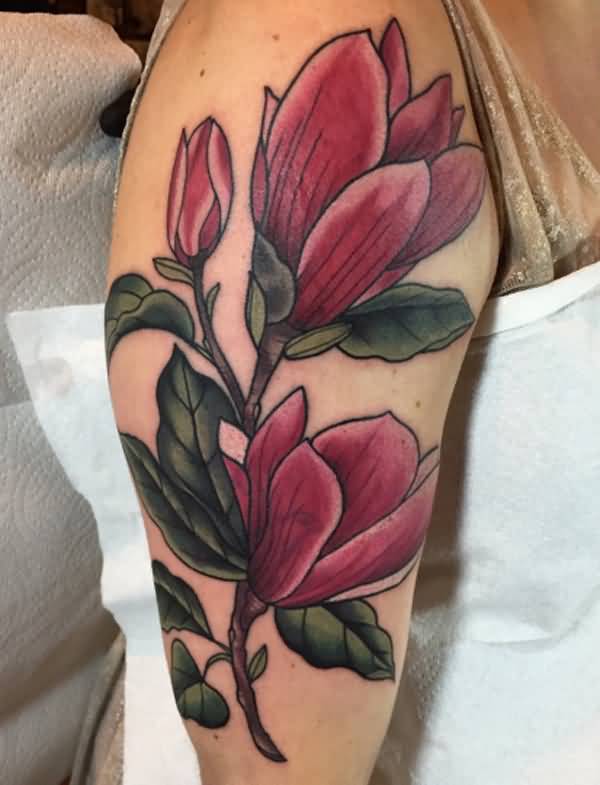 Red Magnolia Flower Tattoo for Arm. Most of the flowers look beautiful when they are in red color.Same goes with Magnolia flower that depicts beauty and sense of perfection to anyone wearing or holding it.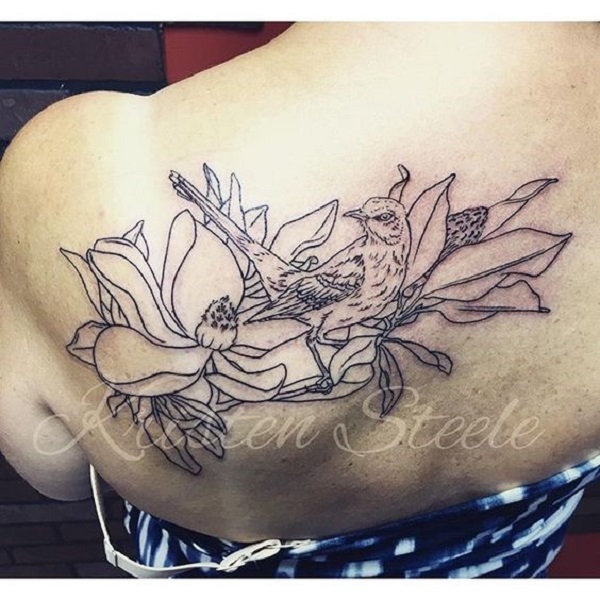 Birds with Magnolia. Another magnolia flower tattoo combined with bird is next on our list. This tattoo design is not less than an inspiration.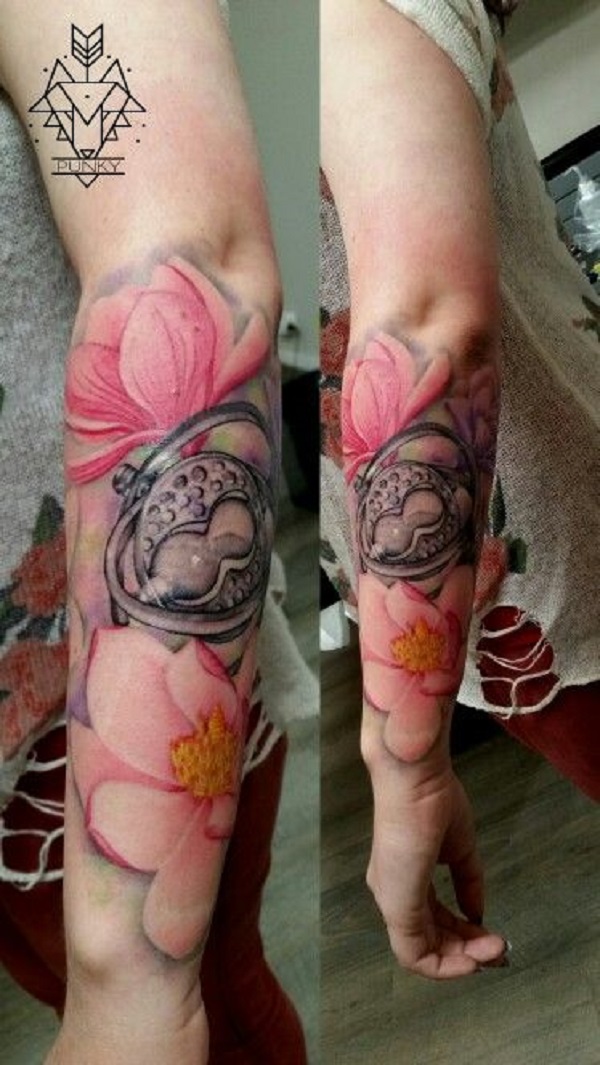 Magnolia Sleeve Tattoo Design. Get your sleeve covered with this perfect sleeve tattoo design incorporating pink magnolia flower that symbolizes purity and beauty.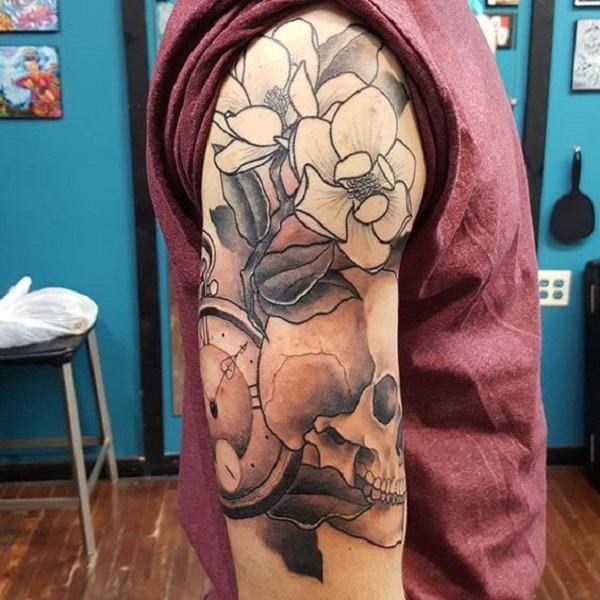 Magnolia Flower Coupled with Skull. Although skull is not that common with the magnolia flowers, however, if you want something new and unique, do consider this tattoo design.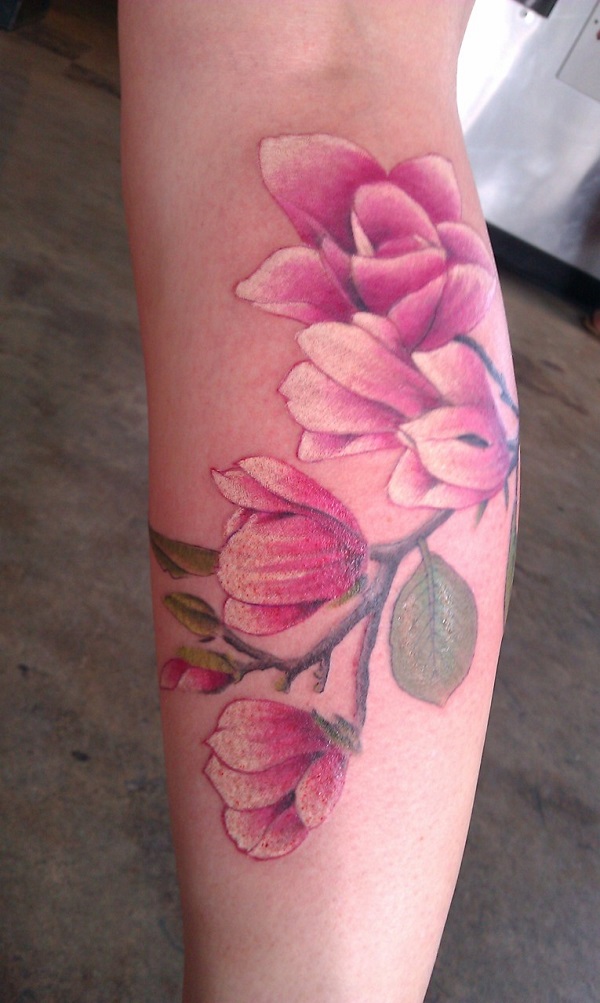 A Branch of Red Magnolia Flowers. Magnolia flowers on a single branch looks magnificently beautiful.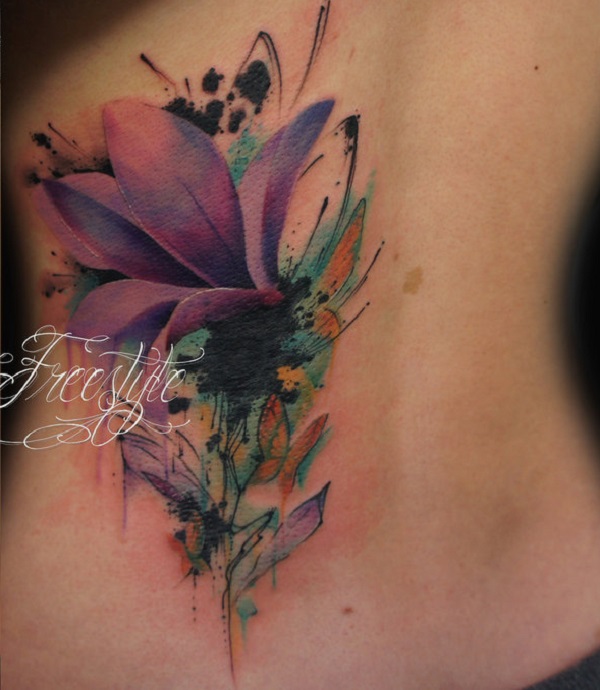 Water Colored Magnolia Tattoo Design. Fine lines highlighted with water colors makes this tattoo lok classic and exotic.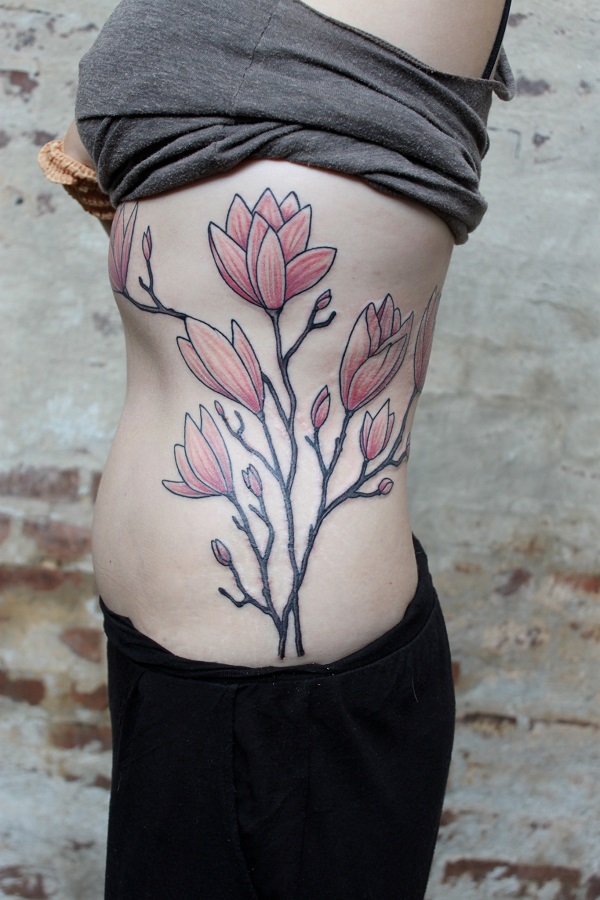 Simple Rib Piece.If you want to embellish your rib with something simple yet attractive, this is what all you need.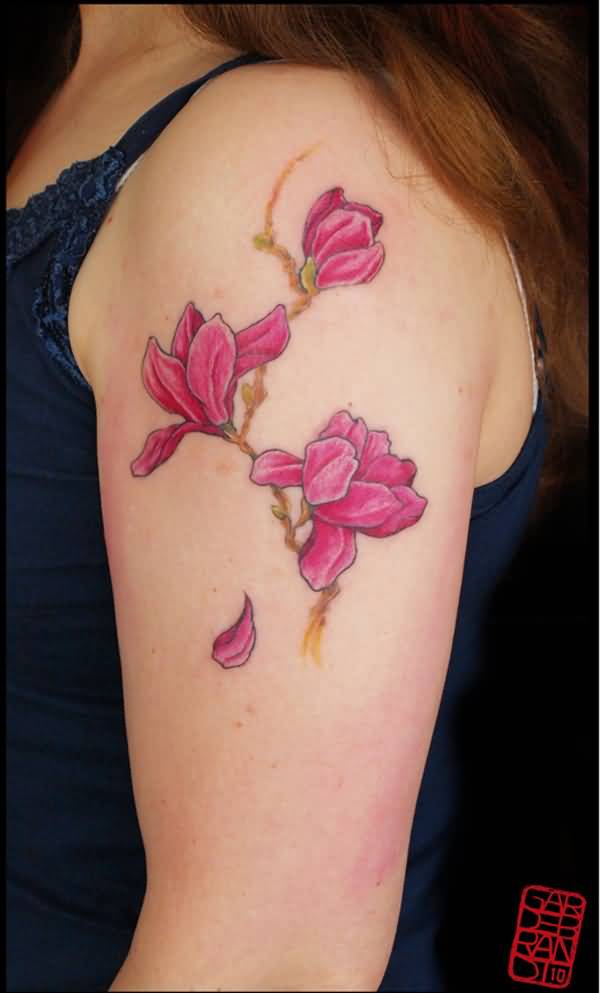 A Broken Petal. Whether the magnolia flower is blooming or its petals are falling, in both cases, these flowers looks alluring.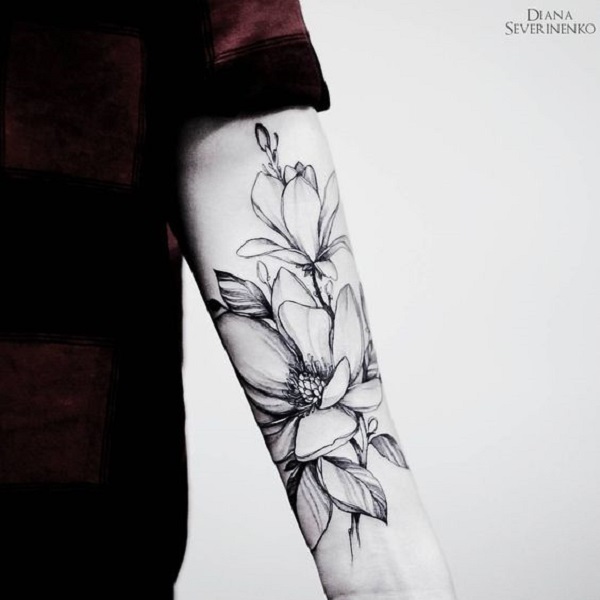 Magnolia Tattoo Design for Men. Magnolia flower tattoos are mostly worn by women, however, as they are highly in trend, they can also be embellished on men. Here's the look.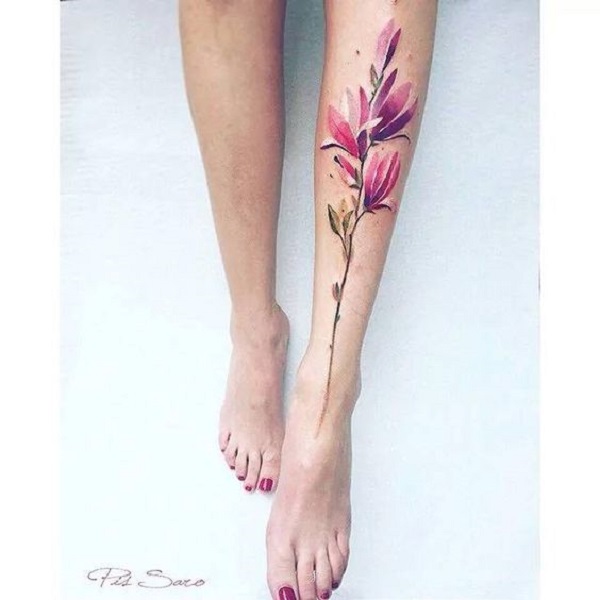 The Lower Leg Piece. If you are the one love to wear those short sexy dresses, the magnolia flower leg piece will surely enhance your charm.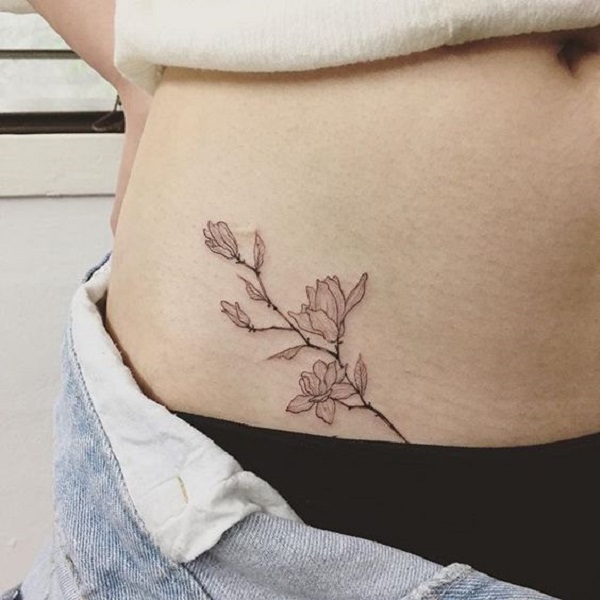 Magnolia Vine for Waist. This seducing tattoo design is for girls who want something attractive and sexy.
Couple of Magnolia Flowers. Arms are the best placement of tattoo, that can be seen easily. So you have number of designs for arms to choose from.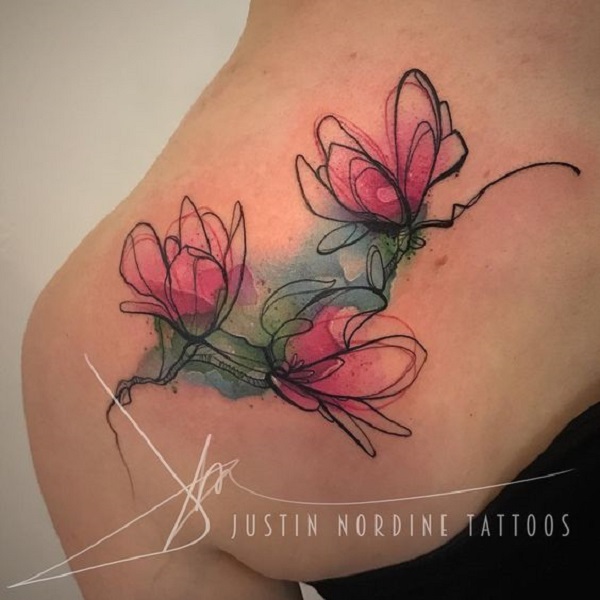 Water Colored Design. Another back piece is next on our list, that is more than attractive.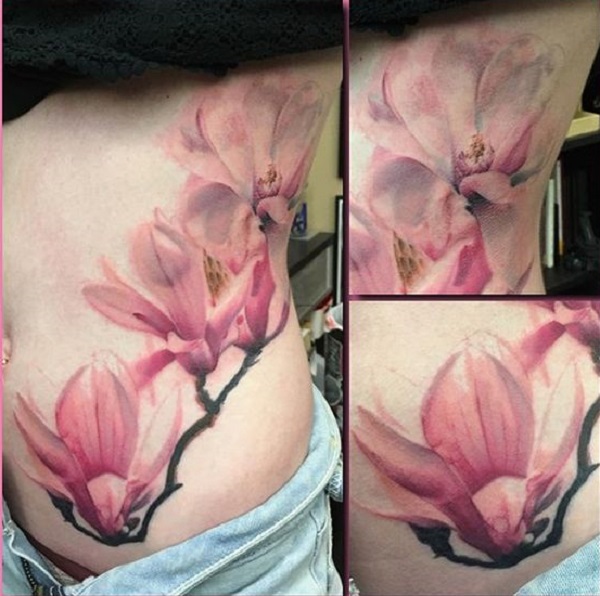 Beautiful Magnolia Flower Tattoo Design. if you are a true lover of nature, you can have this tattoo on your rib to show your love.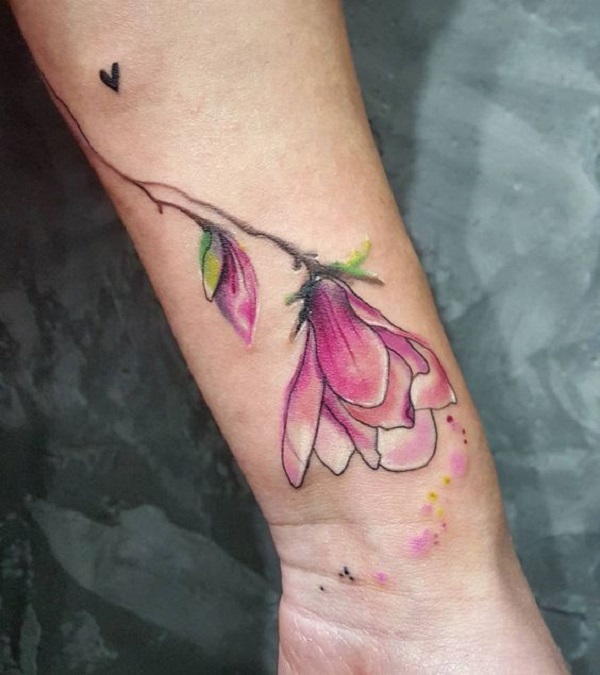 Magical Magnolia Flower with Heart. As nature is full of love, this magnolia flower tattoo with heart is just the respresentation.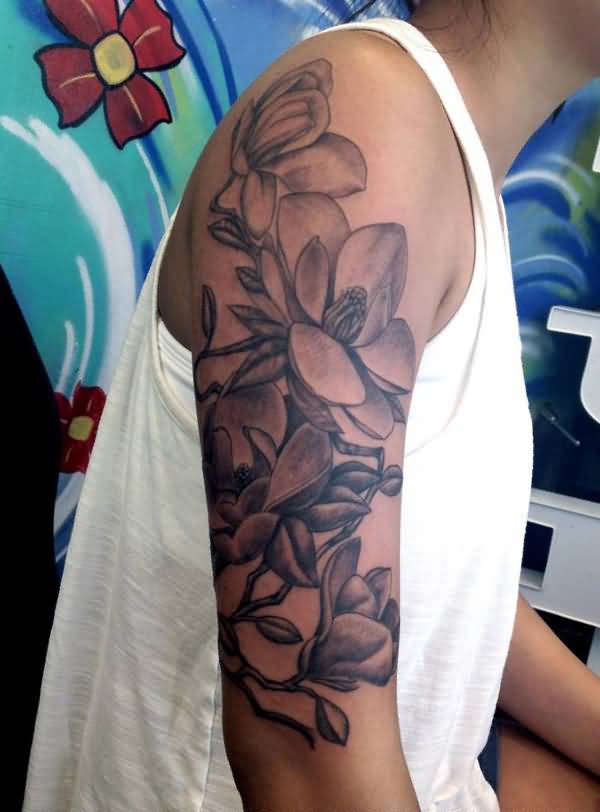 Magnolia Flower Tattoo for Arm. If you want something extravagant, have this tattoo embellished on your upper arm.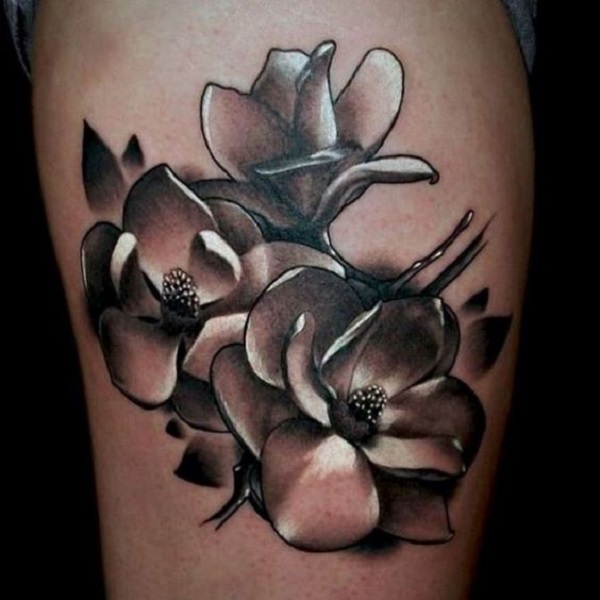 Back lit Magnolia Flowers. Back lit tattoos are very common across the globe. This magnolia flower tattoo with back lit appearance looks more than beautiful no matter wherever you place it.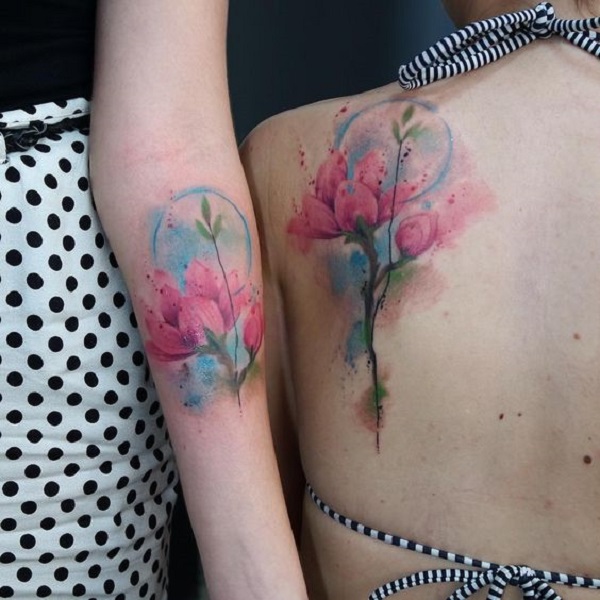 Twin Water Colored Tattoos for Arm and Back.Get a couple of beautiful magnolia tattoos on your arm and back to enhance the look of your body.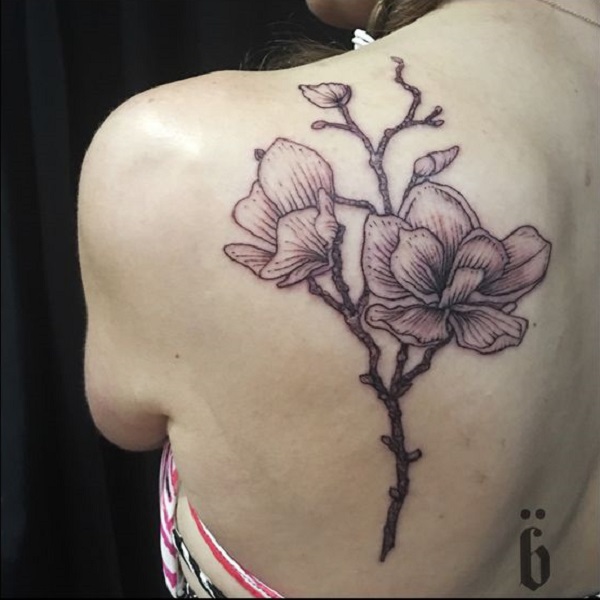 Simple Back Magnolia Flower Tattoo. This tribal magnolia flower tattoo design is something worth looking.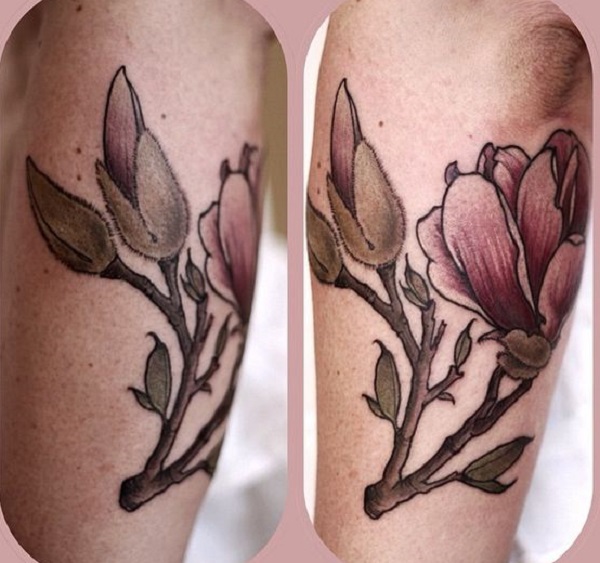 This noble piece. Show your purity and nobleness with this noble magnolia flower tattoo design.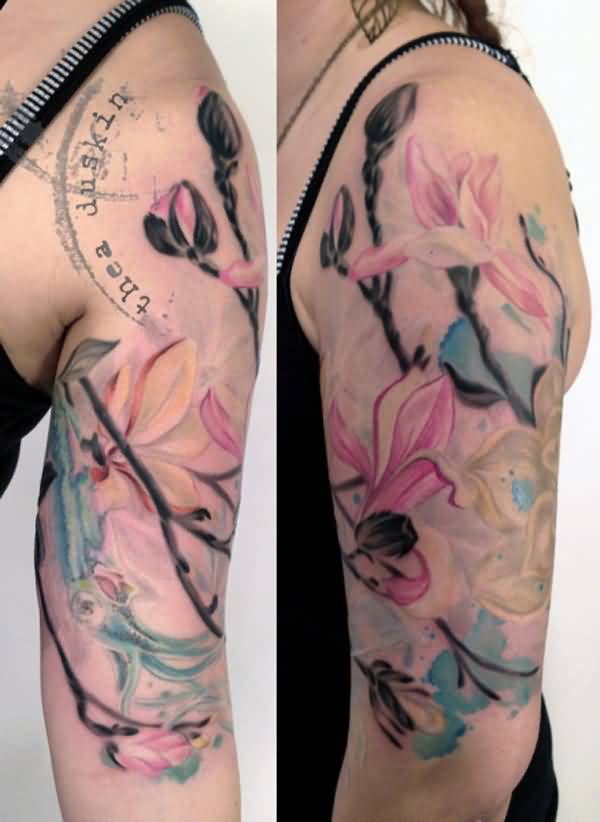 Faded Magnolia Sleeve Tattoo. Decorate your arm with this amazing sleeve tattoo with some scenic details.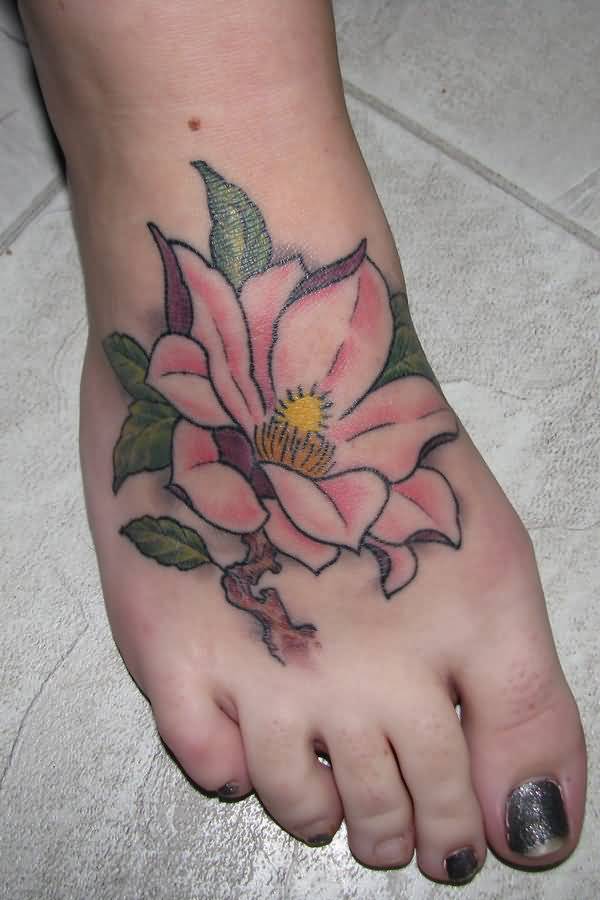 Tattoo Piece for Foot. If you are worth looking for a tattoo piece for you foot, then this is what you are looking for.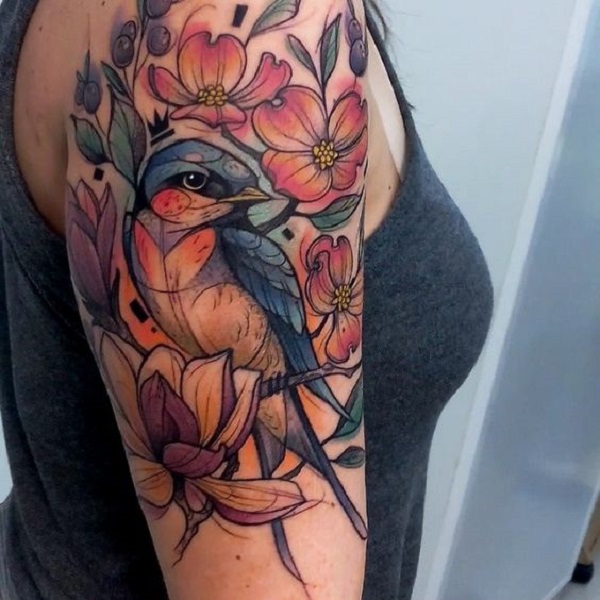 A Bird Surrounded by Magnolia Flowers. Birds and flowers makes perfect combo and so does this tattoo on the arm.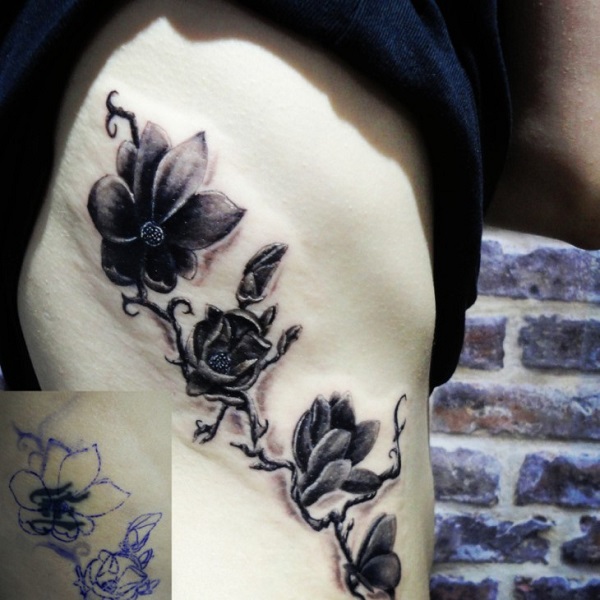 The Black Inked Magnolia Tattoo. Black is the symbol of grace and gentleness. Couple the black color and magnolia flower to enhance your tattoo vision.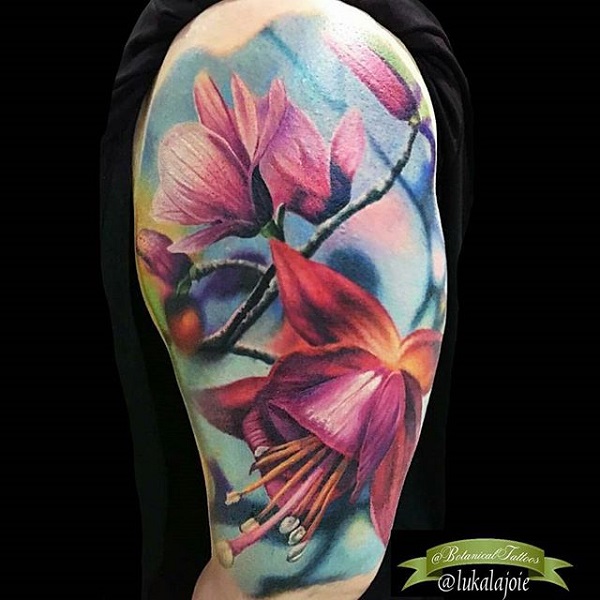 Colorful Magnolia Flower Tattoo for Arm Sleeve. This scenic and colorful magnolia flower tattoo is really eye-catching.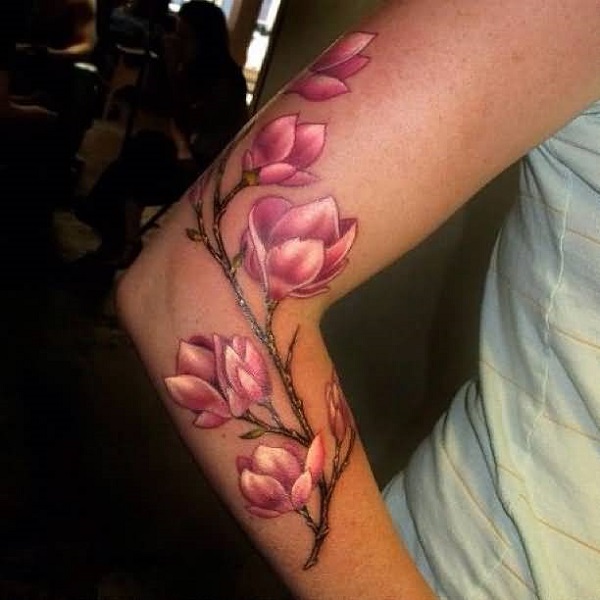 Pink Exotic Magnolia Flower Tattoo Design. With pink and white hues, cover your arm with this exotic tattoo design that can go perfect with every dress you wear.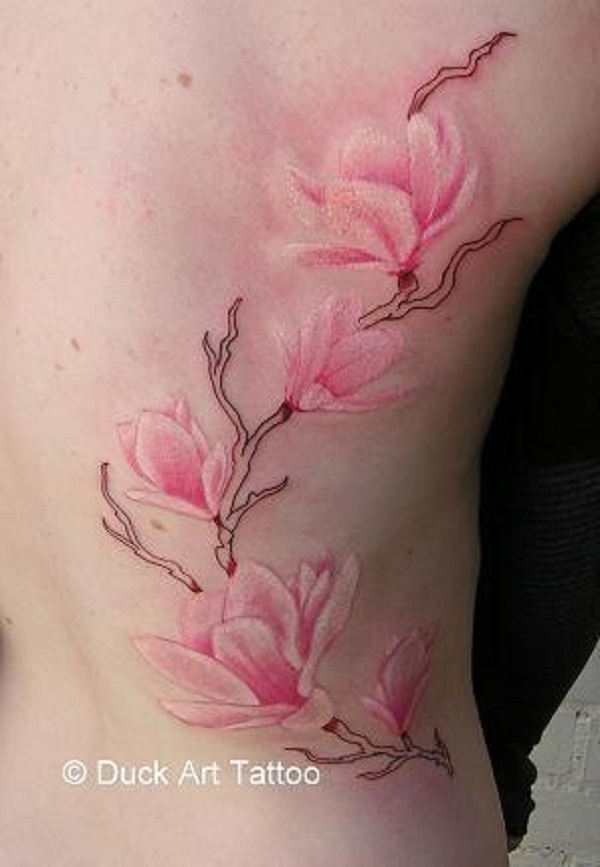 Beautiful Magnolia Tattoo Design by Duck Art. Another pink magnolia flower tattoo design is next on our list that can make your choice easy.
Another Pink Magnolia Flower Tattoo. This leg and foot piece will definitely not going to be ignored by anyone.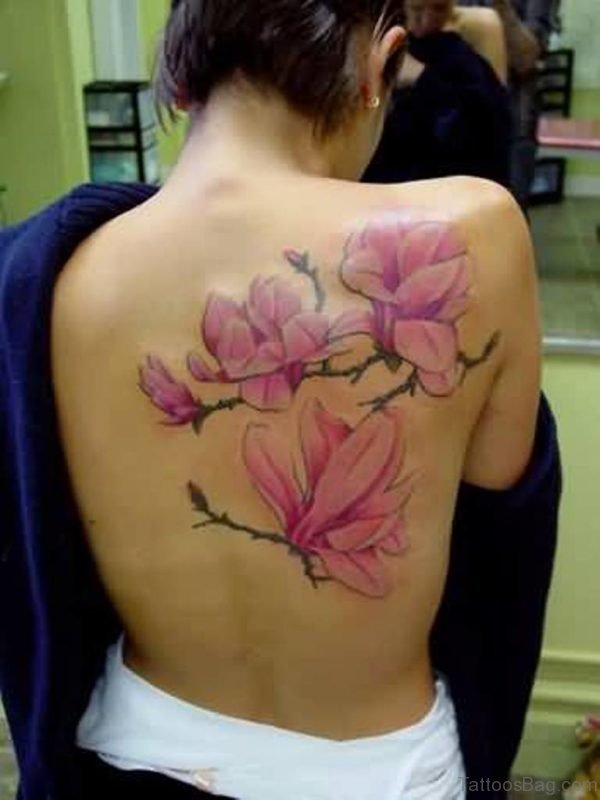 Another Pink. This back magnolia flower tattoo is inspiration.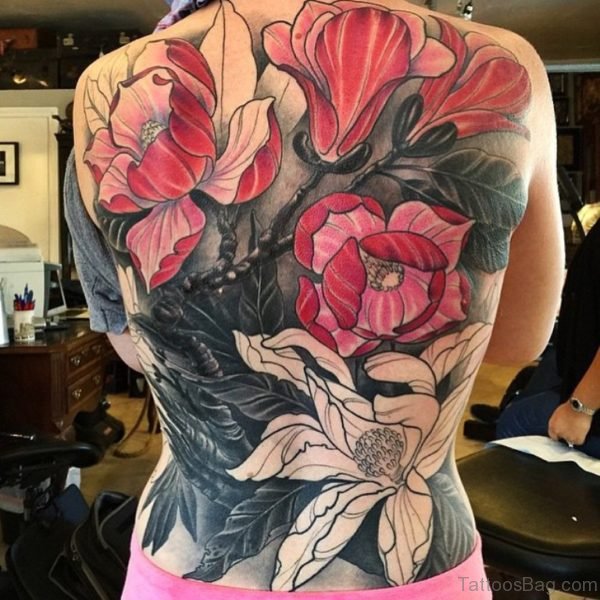 Black, Pink and White Magnolia Tattoo for Full Back. Get your back covered with something meaningful and extravagant. You can add more colors to this tattoo or just go with the one as in the picture.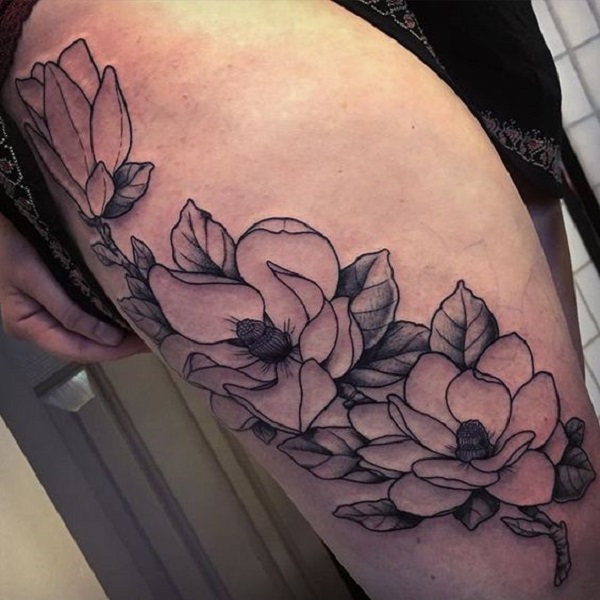 This Thigh Piece. This thigh piece is worth looking when you are in search of something attractive for your thigh.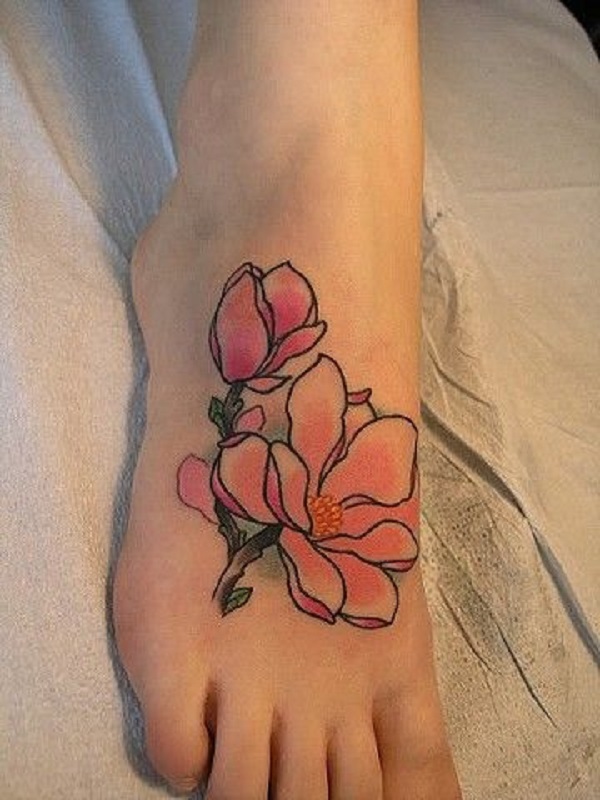 Cute Foot Piece. This cute and pure magnolia flower for foot makes the best choice for your next tattoo.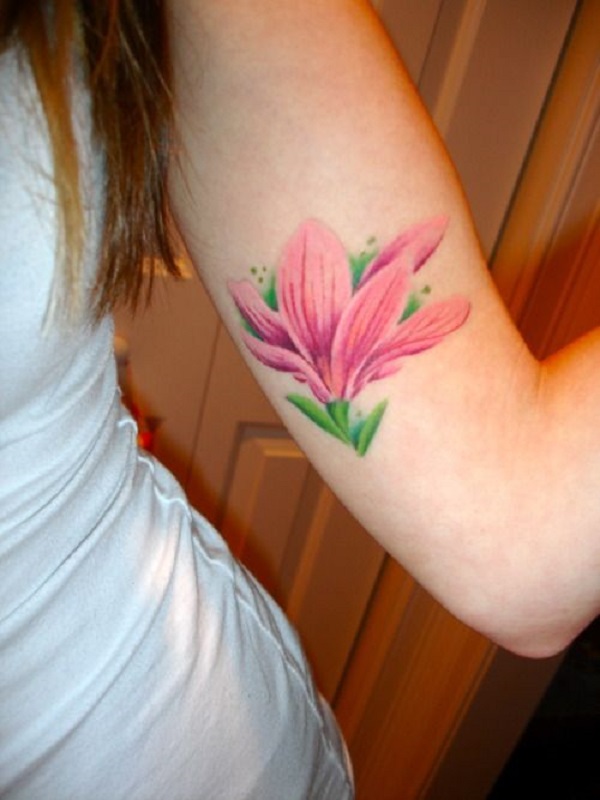 Small Magnolia Flower for Upper Arm. If you don't want something large, you can simply go with this kind of small, yet attractive tattoo pieces.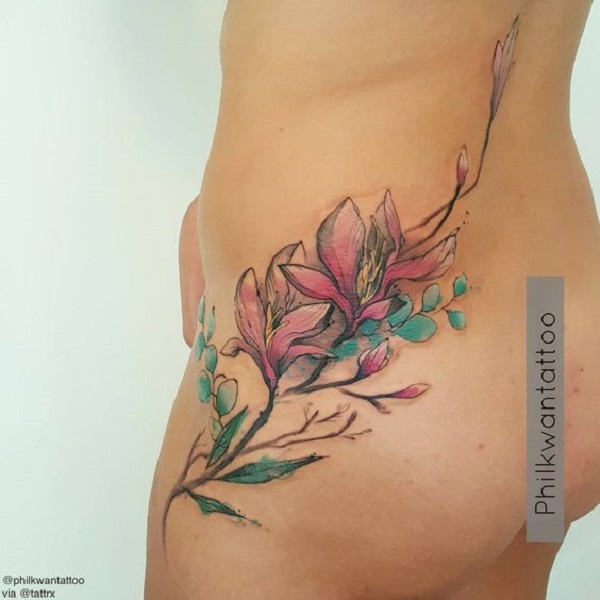 Thigh Piece Extended to Ribs. If you don;t want to get your different parts tattooed separately, just go with the one that extends from one part of the body to another. Picture is the great depiction.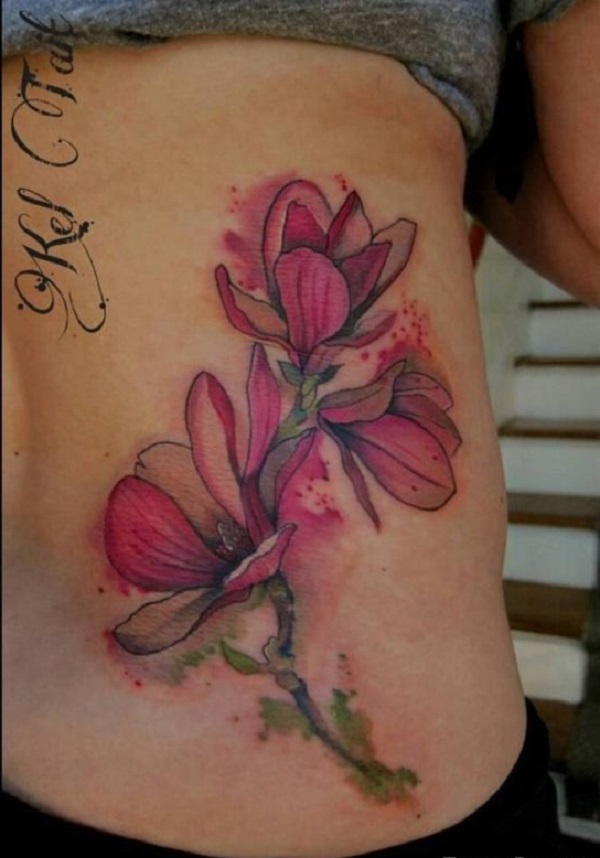 Pink Water Colored Magnolia Flower Tattoo Design for Ribs. This pink water colored magnolia flower tattoo design is something not worth ignoring.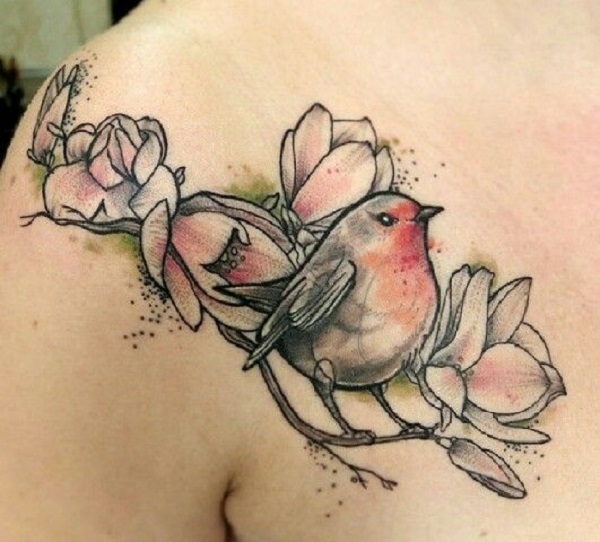 Outlined Magnolia Flower with Cute Bird. Hummingbird and magnolia flower simply makes a perfect example of great tattoo.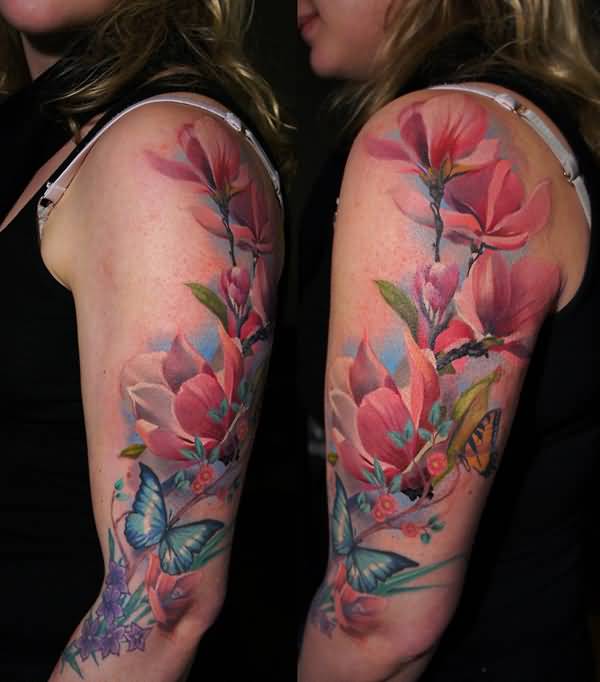 Magnolia Flowers with Butterfly. Butterflies and flowers – The oh-so perfect combination.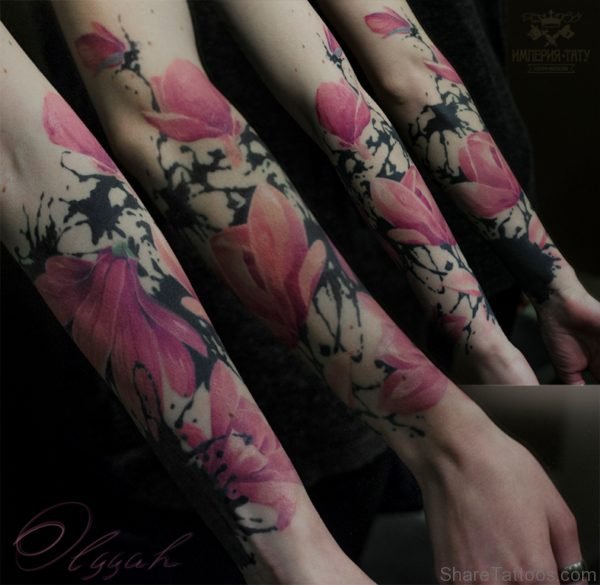 Sleeve Piece. This black, orange and pink colored magnolia flower tattoo is one of my personal favorite's.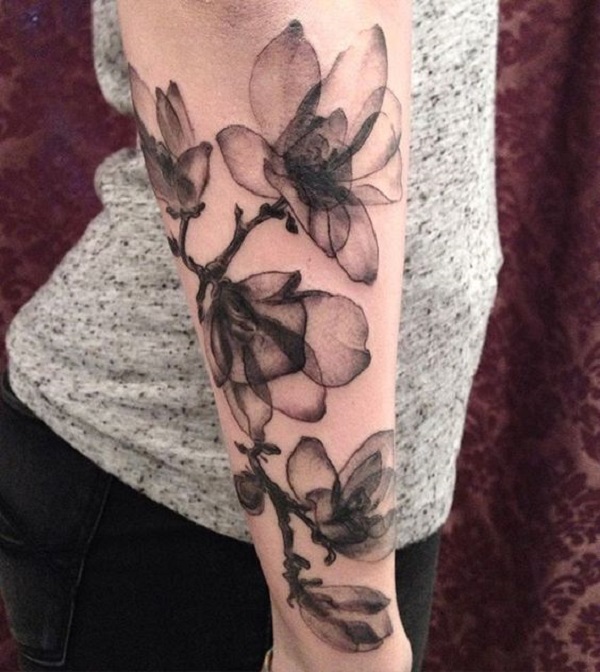 Another Black Sleeve Piece. Black + Magnolia Flower = Awesome Tattoo.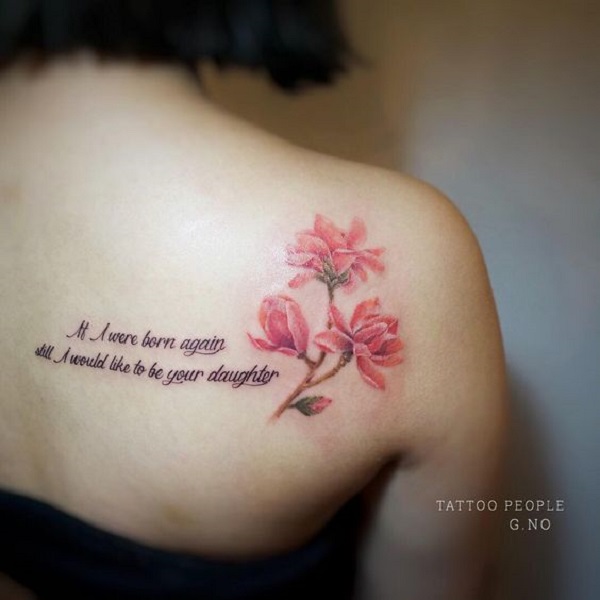 Quoted Magnolia Flower Tattoo. Couple up your cute little magnolia flower with your favorite quote to improve your looks and body.
Vintage Magnolia Tattoo Design. Vintage tattoos are going still in fashion. Pay tribute to vintage tattoos by decorating your body with one.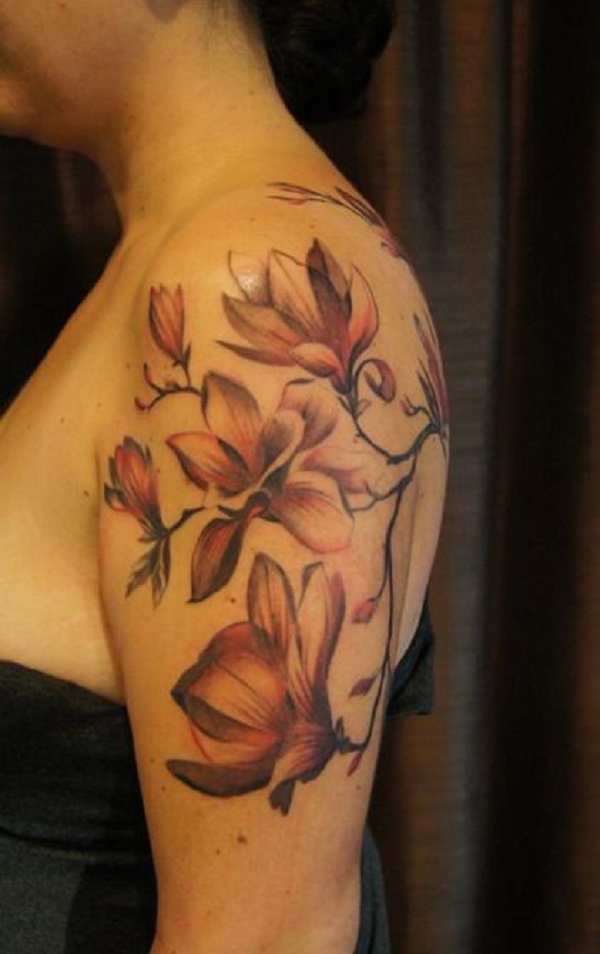 The Shoulder and Arm Tattoo. These bold shades in tattoos makes your personality bolder.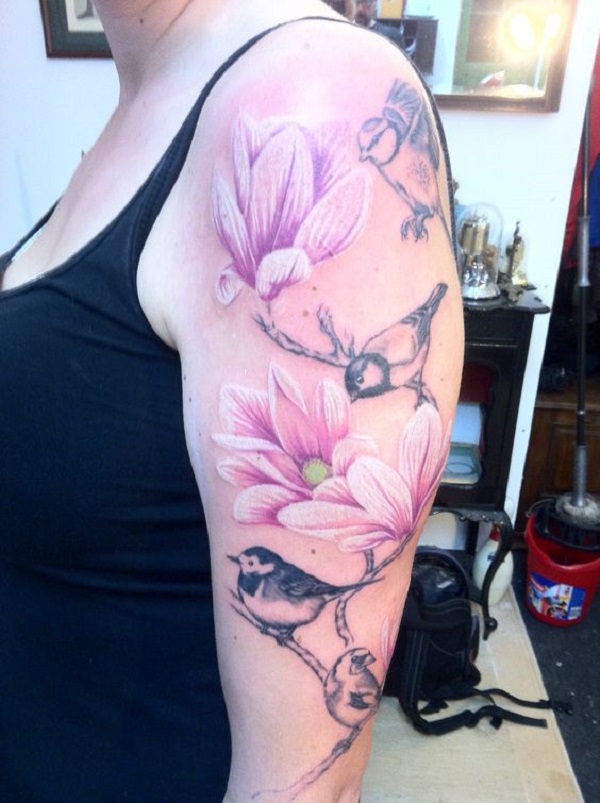 Sparrows Over Magnolia Flower. Sparrows sitting on the branches of magnolia flower symbolizes the peace, happiness, freedom and love all around. Spread these emotions by having this tattoo on your arm.
A Faded Design with Magnolia Flower. Faded background and dark magnolia flower often depicts the strength and purity.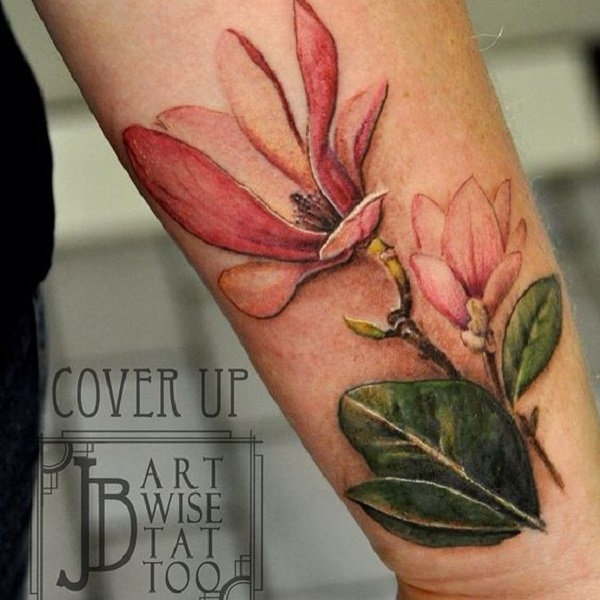 Realistic Colored Magnolia Flower Tattoo. This realistic magnolia flower tattoo is a vision for all.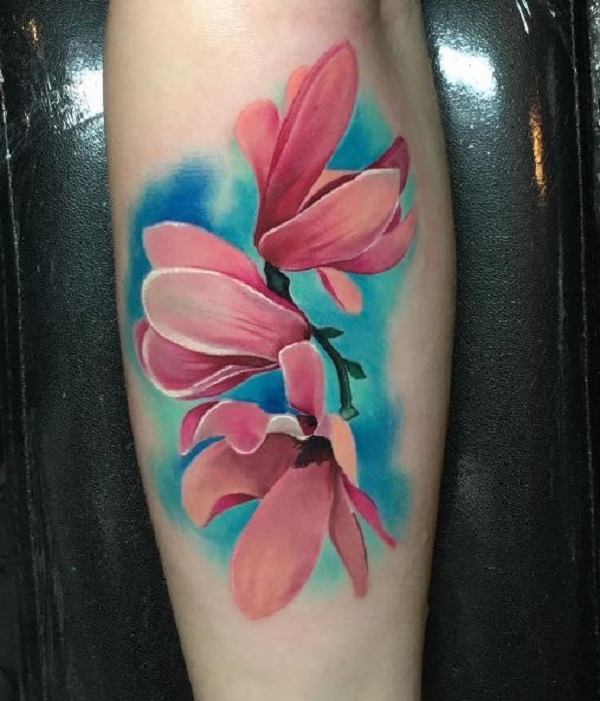 Pink Magnolia with Blue Hue. I bet you will fall in love with this pink magnolia flower mixed with blue background.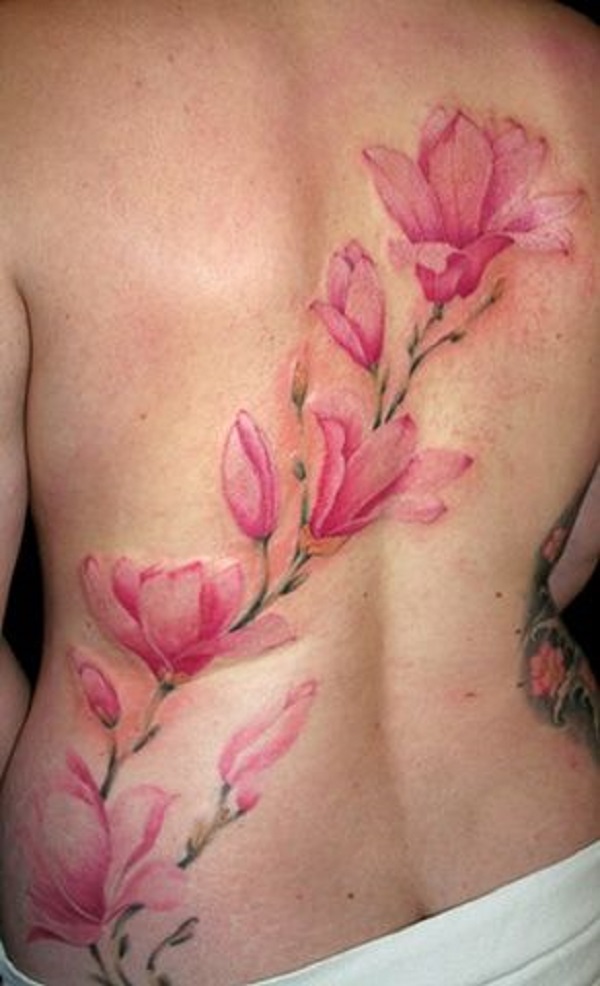 The Back Piece. This beautiful vine extended from back to hip is a perfect use of a tattoo.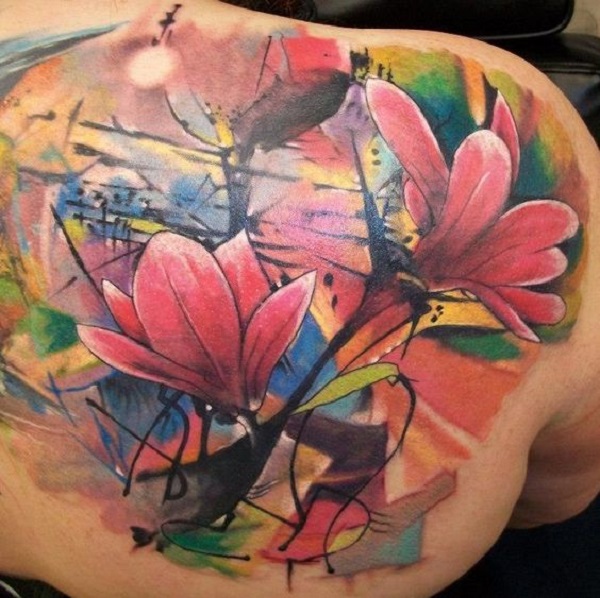 Colorful Magnolia Flower Piece for Back. Finding something colorful? I think your search ends here.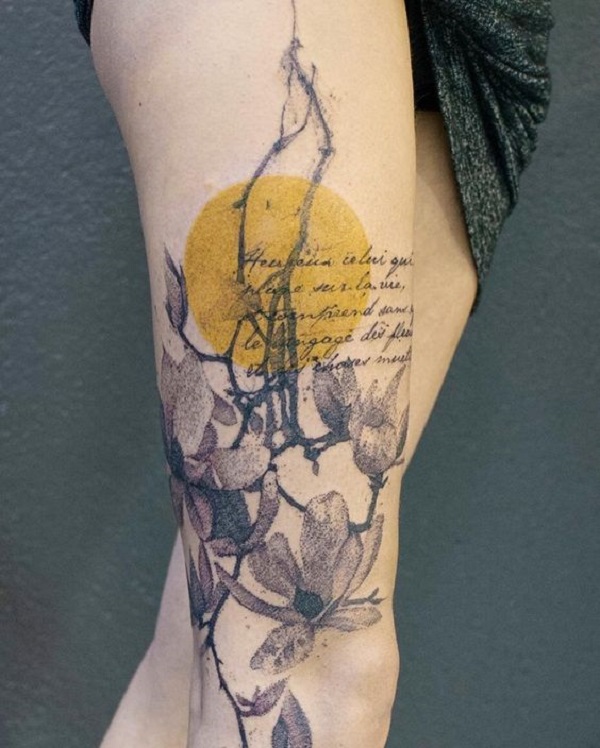 Sunset Magnolia Flower Tattoo. Sunset magnolia flower tattoo with a quote is something very attractive and beautiful. Get yourself tattooed with this piece to spread the love for nature everywhere.
If you are worth looking for flower tattoos, it is necessary for you to walk with the magnolia flowers, that are perfect depiction of beauty, femininity and love. These flowers signifies pioneer and striving for excellence and that is the reason why Magnolia is the official flower for Shanghai.